29th Oct 2013
Physical therapyis the segment of healthcare that focuses on restoring or increasing health following surgery or in response to congenital impairments or disabilities. Physical therapists work with patients to increase strength, range of motion, mobility, and functional abilities to improve a patient's quality of life. Physical therapists have the ability to examine, evaluate, diagnose, and prescribe treatment plans for a wide variety of conditions and due to the large number of conditions that can improve as a result of physical therapy regimens, physical therapists may specialize in particular disciplines or conditions. In many settings, physical therapy services may be provided alongside, or in conjunction with,other medical or rehabilitation services.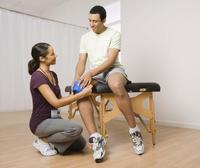 Physical therapists address a variety of physical problems experienced by their patients.
The initial examination, evaluation, diagnosis, and the development of a treatment plan is performed by a physical therapist, but the actual treatment may be performed by a physical therapy assistant acting under the direction of a physical therapist. Frequently, physical therapists work in conjunction with occupational therapists, speech and language pathologists, restorative nurses, and other healthcare professionals to achieve the goals of a comprehensive rehabilitation plan.
A physical therapy treatment plan may include any of all of the following types of activities: exercises that are intended to strengthen specific muscles or muscles groups, manual therapy for increased range of motion or flexibility, skeletal manipulation, electrotherapy, ultrasound, hot or cold packs, and other treatment interventions including educating patients about proper posture and movement and their condition.
One more recent development in physical therapy is the more proactive approach many physical therapists are taking to prevent the loss of strength, range of motion, and/or mobility before they occur by developing fitness or wellness programs that allow individuals to maintain maximum functional ability as they age or as a condition that might otherwise limit their ability progresses.
Physical therapists may specialize in various disciplines that could include: sports medicine, woundcare, biofeedback, cardiac rehabilitation, geriatrics, neuro rehabilitation, orthopedic rhabilitation, and pediatrics.
Physical therapists practice in various healthcare settings, such as outpatient clinics, health and wellness clinics, rehabilitation hospitals, skilled nursing facilities, long-term care facilities, home care agencies, schools, hospice,work injury clinics, and fitness facilities.
In addition to clinical practice, physical therapists may also work in research, education, consultation, and administration.

The American Physical Therapy Association (APTA) fulfills a vital role in the education, promotion, and other aspects of the physical therapy healthcare specialty.
TheAmerican Physical Therapy Association(APTA) is also responsible for accrediting physical therapy education curricula throughout the US and works to represent the interests of licensed physical therapists and physical therapy assistants by defining the scope of practice and preventing other healthcare practitioners from providing treatment that physical therapy professionals are trained, educated, and licensed to provide.
According to the United States Department of Labor's Bureau of Labor Statistics, there were approximately 198,600 Physical Therapists employed in the United States in 2010, earning an average $76,310 annually, or $36.69 per hour.The Bureau of Labor Statistics also reports that there were approximately 114,400 Physical Therapist Assistants employed in the United States in 2010, earning an average $37,710 annually, or $18.13 per hour.
Follow along with physical therapists who show you the details of their profession: