30th Apr 2021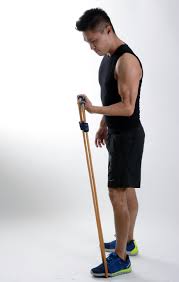 Resistance bands are excellent for use by people new to exercising or someone who is recovering from a physical injury, as these are much safer options compared to other strength training equipment like dumbbells and weights.
Since these bands help in the gradual rebuilding of strength and flexibility, resistance band workouts are often recommended by health professionals for people with muscular injuries and even for cardiac rehab patients. Resistance exercises are also common among sports professionals as they enable a person to work on specific muscles.
What are the advantages of using resistance bands for exercise?
Fitness bands are considered a stellar training tool and preferred for professionals as well as beginners. These are some of the reasons why these bands are so popular:
Versatility: Resistance band workouts bring a much-needed variety to workout regimens, and there are several kinds of exercises that can be performed using these bands. Whether you use them for building core strength, focusing on a particular muscle group, losing weight, or for general fitness, resistance bands eliminate boredom while exercising.
Affordability: Compared to most other workout equipment, fitness bands are inexpensive options giving people the advantage of exercising without having to join a gym.
Effectiveness: Although simple to use, resistance bands are effective in working your muscles while also improving coordination and balance.
Excellent for all fitness levels: Resistance band workouts can be performed by people of all skill levels from amateurs to professional sportspersons. It also allows the user to adjust the amount of resistance during a workout.
Portability: Since resistance bands are compact and can be easily folded and carried everywhere, fitness enthusiasts do not have to miss their regular workout even when they are traveling.
The Advantage of Therapy Bands
Elastic resistance is a unique type of resistance training compared to other traditional forms, such as isotonic or isokinetic resistances. The resistance provided by elastic bands or tubing is based on the amount that the band or tubing is stretched. This resistance can be measured in pounds of force depending on the percentage the band or tubing is stretched from its resting length; this is known as "force-elongation". Regardless of how long the band or tubing is before it's stretched, the force produced at its stretched length depends on the percent elongation. For example, an initial 2 foot (60 cm) length of green band that is stretched to 4 feet (120 cm) (double its resting length), is at 100% elongation.
Therefore, the resistance of the band is 5 pounds (2.3 kg) at that elongation. If the band is then further stretched to 6 feet (180 cm) (200% longation), the resistance would be about 8 pounds). There is approximately a 20-30% increase in resistance between Thera-Band colors at 100% elongation.
Thera band resistance training bands are color coded and can even be purchased in bulk. Each color represents a different resistance level to allow for graduated training. The resistance band chart below shows the resistance strengths for the Thera-Band colors sequence. The first chart shows the resistances in pounds, and the second gives the same information in units of kilograms.
These products use the Thera-Band Colors Sequence:
amzn_assoc_placement = "adunit0"; amzn_assoc_search_bar = "true"; amzn_assoc_tracking_id = "resistancebands0c-20"; amzn_assoc_search_bar_position = "bottom"; amzn_assoc_ad_mode = "search"; amzn_assoc_ad_type = "smart"; amzn_assoc_marketplace = "amazon"; amzn_assoc_region = "US"; amzn_assoc_title = "Shop Related Products"; amzn_assoc_default_search_phrase = "theraband set"; amzn_assoc_default_category = "All"; amzn_assoc_linkid = "32769b62665bcf74192259441bcfa552"; amzn_assoc_rows = "1";
Types of Resistance Bands
Fitness bands can broadly be categorized into two types- resistance tubes and flat bands. While the flat-type rehab bands do not have handles and are simple rubber latex strips that look like a massive rubber band, tube-type ones are available with clips or handles, as figure-8 bands, and also ones with Velcro ankle cuffs.
Each type of rehab band has its specific use depending on which part of the body you want to work on, and taking the help of a fitness expert to help you pick the most suitable one is recommended.
Resistance bands also come in different levels of resistance to suit multiple fitness levels among users. Resistance bands colors are actually a devised system to indicate the thickness and resistance level, wherein usually lighter colors are beginner level, with the resistance level going up with darker colors. Here is how different colors correspond to different levels:
Yellow/Orange – Usually categorized as light resistance, these resistance bands are about 0.5-2.5 mm thick, and are meant to be used by beginners. Since these bands are quite stretchy (offering about 3lbs of resistance), they are easy to work with and are great for working areas like the shins and shoulders.
Red, green, and blue– Rehab bands of these colors typically offer medium to heavy resistance for users, and are best for working larger muscle groups like the chest, back, and legs. Resistance bands that fall in this category usually offer resistance of approximately 8-12lbs and are appropriate for people who are used to working out regularly and building muscle strength.
Black – Black fitness bands are ones that offer an even higher amount of resistance, which means these are the thickest and difficult to pull. Only experienced users are meant to use bands of this color as these can offer resistance of more than 15lbs.
Silver and Gold - Silver and gold therapy bands offer the highest amount of resistance meaning they are the most difficult to pull and will offer resistance of 20 lbs or more.
The classification given above is only a typical one as different manufacturers may have specific color codes and resistance levels in their rehab bands. Always check carefully before buying one to ensure that it suits your needs.
Related Article: TheraBand Resistance Color Sequence Explained
Benefits of Resistance Training
Resistance training is usually defined as a form of physical exercise that entails using some external resistance (like resistance bands) to contract your muscles. The American Sports Medicine Institute (ASMI) defines the goal of such training as "to gradually and progressively overload the musculoskeletal system so it gets stronger."
Health and fitness experts consider resistance training to have many health benefits, a fact that has even been published in studies such as this one. So let's take a quick look at some of the advantages of resistance band workouts:
Such exercises can increase the metabolic rate in your body, which is vital to maintain a healthy body weight.
Resistance exercises improve mobility and balance, and give users a better posture.
Regular resistance band workouts build strength and tone in the muscles. This is particularly helpful for people who are aged over 30 as every decade after this age the human body loses about 5lbs of muscle.
Such workouts are known to build bone density and make the bones stronger, which can even reduce the risk of developing diseases like osteoporosis for both men and women.
Since resistance exercises work towards protecting your joints, you have a reduced chance of injury. Rehab bands are lightweight and low-impact training equipment, which helps rehabilitation from sports-related injuries without causing pain—this makes them excellent tools for active sports professionals.
Resistance band exercises have also been found to enhance a sense of general well-being by improving mood and boosting self-confidence.
Resistance band workouts build stamina, which lets you do more every day without having to battle fatigue.
Such exercises aid better sleep at night and can help people who are struggling with insomnia.
Proper and regular exercises with resistance bands can even fight or reduce the risk of several chronic health conditions like arthritis, diabetes, obesity, and depression.
For clinics, gyms and rehab practices, you can easily purchase resistance bands in bulk to meet the needs of your client population.
Tips to Maximize the Use of TheraBands
Now that you know the many uses, types, and benefits of rehab bands, you can buy a few for yourself and incorporate them into your workout routine. Here is our resistance bands guide to keep in mind in order to the best results with your resistance bands:
If you are new to resistance band workouts, do not go all out at once and instead start slow. Like any other training equipment, fitness bands may take some getting used to, so talk to your health practitioner about the right kind of start for you and take time to build confidence and learn the proper techniques.
Remember to breathe evenly during resistance exercises. Do not hold your breath. It is always a smart decision to understand the technique from an expert and then try it.
Choose a fitness band that lets you perform 2-3 complete sets of 10-15 repetitions with mild tiredness setting in only during the last set. Do not move onto a band with greater resistance before you can complete such sets comfortably.
Check the band before use for any damages on the latex to avoid mishaps. In addition, remember to check twice when you fasten a resistance band onto a door or other objects for certain resistance exercises.
Resistance bands serve multiple purposes and can be used by people of different fitness levels. However, choose one according to your comfort level rather than competing with anyone and listen to your body in case of any pain.
Contact us today!
We can help you find the perfect therapy bands for your clients or personal use. Contact us today and we'll answer any questions you may have about using resistance bands! Call us today at 1-801-770-3328 for more information. Thanks for shopping ProHealthcareProducts.com
Disclaimer
Last updated: November 29, 2018
The information contained on https://www.prohealthcareproducts.com/ website (the "Service") is for general information purposes only.
Creekside Partners, LLC assumes no responsibility for errors or omissions in the contents on the Service.
In no event shall Creekside Partners, LLC be liable for any special, direct, indirect, consequential, or incidental damages or any damages whatsoever, whether in an action of contract, negligence or other tort, arising out of or in connection with the use of the Service or the contents of the Service. Creekside Partners, LLC reserves the right to make additions, deletions, or modification to the contents on the Service at any time without prior notice.
Creekside Partners, LLC does not warrant that the Service is free of viruses or other harmful components.
Affiliate disclaimer
This affiliate disclosure details the affiliate relationships of Creekside Partners, LLC with other companies and products.
Some of the links are "affiliate links", a link with a special tracking code. This means if you click on an affiliate link and purchase the item, we will receive an affiliate commission.
The price of the item is the same whether it is an affiliate link or not. Regardless, we only recommend products or services we believe will add value to our readers.
By using the affiliate links, you are helping support the Service, and we genuinely appreciate your support.
Affiliate advertising programs that the Service uses are:
Amazon Services LLC Associates Program

Creekside Partners, LLC is a participant in the Amazon Services LLC Associates Program, an affiliate advertising program designed to provide a means for sites to earn advertising fees by advertising and linking to Amazon.com or endless.com, MYHABIT.com, SmallParts.com, or AmazonWireless.com.

Pages on this Service may include affiliate links to Amazon and its affiliate sites on which the owner of this Service, Creekside Partners, LLC, will make a referral commission.