21st Oct 2014
Baseline's Digital Inclinometer is used by physical therapists, chiropractors, researchers and other medical professionals to determine range of motion for a patient or test subject. The user manual below includes instructions for calibrating a Baseline Digital Inclinometer, operating instructions for using the inclinometer in each of its two modes – absolute zero and relative measurement, and directions on battery installation and replacement.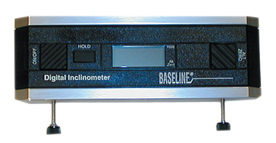 The Baseline Digital Inclinometer Measures Range of Motion
This user manual is published by ProHealthcareProducts.com as a convenience for our customers. Whether you are considering purchasing a Baseline Digital Inclinometer, need a reference for one you already own, or if you're simply trying to find information about range of motion measurement using an inclinometer, we hope you find this manual useful. If there are questions you have regarding this product that are not answered in this instruction manual, please contact ProHealthcareProducts.com customer service for help.