21st Oct 2014
Some of the most popular of Baseline's evaluation products are their hydraulic hand dynamometers, used to measure grip strength. Baseline produces several different versions of the hydraulic hand dynamometer, each differing by gauge style and strength range. The user manual included here applies generally to all of the Baseline hydraulic hand dynamometers. ProHealthcareProducts.com publishes this user manual and others as a convenience for our customers who may need more information before deciding whether to purchase products advertised for sale in our store as well as for those who already own one of these hand dynamometers and who need to refer to the documentation for help.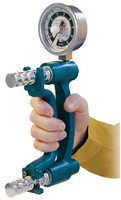 Baseline Hydraulic Hand Dynamometers come in a few different versions and are used to
measure grip strength in patients.

If you have questions regarding any of the Baseline hydraulic hand dynamometers or need more information, please contact ProHealthcareProducts.com customer service.