21st Oct 2014
Baseline's Large Joint Arthrodial Goniometer is used by physical therapists, chiropractors, and other medical professionals to measure joint limitation similar to measurements taken by a protractor. The user manual included here for the large joint goniometer describes how to use the device and includes charts of joint limitation norms for reference. This user manual is published as a convenience by ProHealthcareProducts.com for customers who need more information before purchasing this particular goniometer as well as for those who already own one and need to refer to the documentation for the goniometer. The user manual is also useful for anyone interested in understanding physiology associated with joint limitation.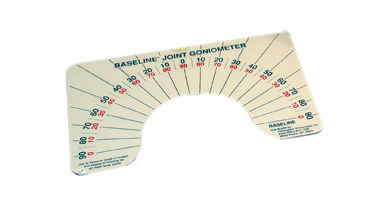 The Baseline Large Joint Arthrodial Goniometer is used to measure joint limitations.
If you have questions about this device that are not answered in the user manual, please contact ProHealthcareProducts.com customer service to have your specific questions answered.