25th Apr 2018
When I first saw the eWheels 3-Wheel Mobility Heavy Duty Scooter, my first thought was, "I want one", which I think is such a departure from most mobility devices are viewed. We don't tend to think of mobility devices as stylish or complementary to our lifestyle. Mobility devices such as mobility scooters are needed for function and as such, design can be pretty low on the priority list. I love that this is changing. 6.8 million Americans require the use of a mobility device, either a wheelchair or scooter, each year. Buying a mobility scooter can be seen as buying a car. Sure, you want it to run well (or ecologically), but you also want it to look fun or stylish or sophisticated or insert whatever flavor of vehicle fits your personality here. This is where I think most functional devices miss the boat. Sure, the devices may function well, but for patients that require their daily use, there is a real personal need there for them to be attractive too. The forward thinkers at eWheels really took this concept and ran with it. The eWheels Heavy Duty 3-Wheel Scooter with magnetic breaks is so stylish, it inspires people to want to buy it immediately, but this love at first sight is destined for success, because it turns out, this heavy duty scooter is a really great mobility device.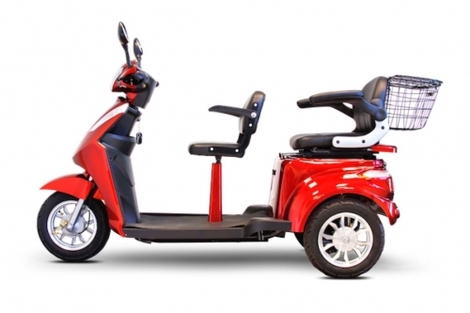 Top Benefits of eWheels EW-38 3-Wheel Mobility Heavy Duty Scooter
Ride Ready
This scooter comes fully ready to ride, taking away any need for reading sometimes confusing owner's manuals and trying to figure out how to complete assembly.
Great for Trips
With an achievable distance of 43 miles on a single charge, the eWheels 3-wheel scooter is great for taking short trips in addition to day to day errands. And with a smart charger, charging time is extremely efficient.
Safety Conscious
This heavy duty scooter was designed with a great break system featuring electric magnetic brakes (with a front drum brake and rear expanding brake). Also, equipped with an alarm, people can use this scooter in the community knowing that they're vehicle is protected.
Storage Space
Most people use mobility scooters in order to complete day to day activities, like grocery shopping. The eWheels 3-Wheel scooter comes with a rear storage basket to accommodate any marketing, shopping or extras that people want to take along or bring home from their trip.
Accommodates Most
The eWheels EW-38 heavy duty scooter is able to accommodate riders of up to 500 pounds, making it accessible for most people looking for a dependable and comfortable mobility device.
And did I mention it comes in red or silver? Not to belabor a point, but it's a step in the right direction to acknowledge and accommodate not only the functional needs of people who require mobility devices, but also their personal needs as well. Just because it's a mobility scooter, doesn't mean it can't be stylish. The eWheels EW-38 3-wheel scooter is just the right mix of incredible style and dependable, innovative function.