4th Aug 2017
In rehabilitation, choosing the right equipment is just part of giving patient's the best treatments possible. Most modalities have corresponding accessories that are needed to offer the highest therapeutic benefit that treatment offers. With ultrasound therapy, it's ultrasound applicators and ultrasound gel. It may seem small, but using the best accessories available can improve treatment outcomes. Electrodes are another accessory used in certain modalities, like electrical stimulation and iontophoresis, that may seem expendable, but are a completely necessary component in using these devices effectively.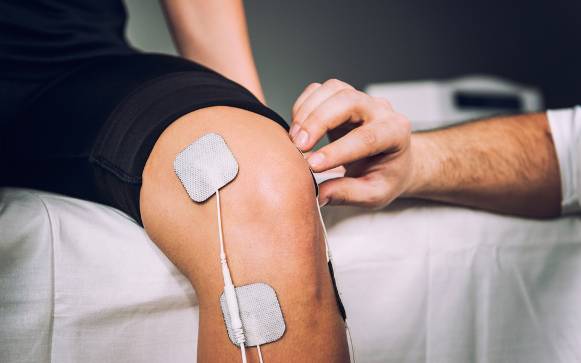 Why Electrodes are Important
Electrodes play a vital role in specific therapeutic modalities. For example, electrical muscle stimulation (EMS), also known as neuromuscular electrical stimulation (NMES) or Transcutaneous Electrical Nerve Stimulation, is a therapeutic modality which creates muscle contractions using electric impulses. These impulses help stop the body's pain response and are generated by the e-stim device and delivered through electrodes on the skin near to the muscles being stimulated.
Pads / Electrodes for Electrical Stimulation
Not only can electrical stimulation help improve muscle spasms and pain. It can help prevent muscle atrophy and build strength after injuries. With its ability to contract muscles, e-stim is also helpful in keeping muscles active, for example with spinal cord injury or strokes. Electrodes are the delivery system for the e-stim treatment.
Best Electrodes for an Electrical Stimulation Device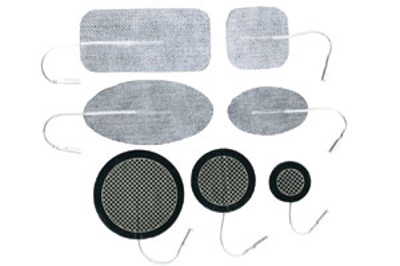 Increase patient comfort with the Dynatronics Ultra Polys Round Electrode were designed to disperse the electrical currently evenly across the entire surface of the electrode. This conductive grid decreases any risk of "hot spots" which can cause discomfort during a treatment. In addition, the self-adhesive Ultra Polys electrodes feature a patented Multi-Stick gel which not only helps keep the electrode in place during treatment, but is also gentle enough on the skin to avoid irritation. The Dynatronics electrodes come in various shapes (round, oval, rectangle) and different sizes to give practitioners the ability to treat diverse areas of the body.
When treating diverse patient populations, it's a good idea to have electrodes on hand that are appropriate to use with sensitive skin. The Dura-Stick Sensitive Skin electrodes were specifically designed to be used with TENS and other electrical stimulation devices for patients who have sensitive skin. The Dura-Stick electrodes feature a special blue gel which is meant to be gentle on sensitive skin without sacrificing effectiveness. With electrical stimulation, conductivity is important. These Dura-Stick electrodes have a stainless-steel mesh that enhances their level of conductivity. These reusable electrodes come with re-sealable packaging which can be easily labeled in included fields for patient name, first-use, and number of uses.
ELECTRODE CARE & USE TIPS
Before using an electrode, it's important to clean and degrease the skin with an alcohol swab or cotton ball with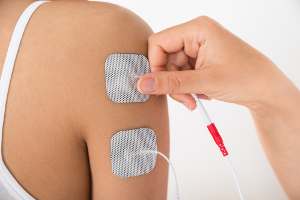 alcohol and then dry it before applying the pads.
1. Identify the area of the body where the pain is located.
2. Use two pads (one channel) or four pads (two channels) at the same time depending upon the type of e-stim unit is available.
4. Electrodes can be placed in one of three directions 1. vertical 2. horizontal 3. angulated.
5. The electrodes should be at least 1 inch apart. Keep in mind, as the distance between the two pads increases the effectiveness decreases.
6. It is advisable not to place the pads directly over a joint such as the knee, elbow or ankle.
*** When removing the electrodes from the skin, peel from the side of the pad. Do not pull the pad off by the wire.
Shortwave Diathermy
Shortwave diathermy is a rehabilitation modality which uses high-frequency electromagnetic energy to generate heat. The treatment is applied in pulsed or continuous energy waves and is commonly used for conditions that cause pain and muscle spasms such as: sprains, arthritis, and fibromyalgia.
The Perfect Electrodes for Short-wave Diathermy
Short Wave Diathermy Units can use either inductive and capacitive electrodes. Capacitive electrodes uses two applicator electrodes on both sides of a treated area, for example superficial areas like knees or elbows. Capacity electrodes like those created for use with Intelect Shortwave Diathermy device also come in different sizes (80mm, 120 mm, 165 mm) in order to give practitioners the ability to effectively treat diverse patient issues in different parts of the body.
Inductive applicators use a single electrode positioned directly over the area of treatment. Inductive electrodes are good for use with deeper soft tissue injuries such as cervical radiculopathy or low back pain.
Biofeedback
Biofeedback is a powerfully effective modality to use in rehabilitation. Biofeedback is a mind/body technique that is used by practitioners to retrain their patients by working with and improving how they interpret specific signals from the body. Biofeedback units focus on physical processes that are normally regarded as automatic from the autonomic nervous system and give patients a way to regain control in these areas. Biofeedback units can be used to help patients regain movement and function of daily activities, for example reducing stress that can lead to chronic pain.
The Perfect Electrodes for Biofeedback
In Biofeedback, treatment protocol is to arrange electrodes 2 cm apart. The Biofeedback Triode Electrodes spaces the silver-silver chloride, electrodes the standard distance of 2cm apart and are designed for use with the MyoTrac or MyoTrac Infiniti Biofeedback Devices. These durable electrodes can be used for extended treatment times and were designed with nickel plated brass snap backing to prevent corrosion.
Iontophoresis
Iontophoresis is a therapeutic modality often used by physical therapists. Iontophoresis uses electrical
stimulation in order to administer medication into your body through your skin's tissues. In iontophoresis, the ionic charges that are alike will repel one another, while ions that are oppositely charged will be attracted to one another. So, when looking to push medicine into the tissues, you'll use medicine in a solution that is negatively charged so when you apply a negative electrical charge to it, the medicine in solution will be pushed away, or repelled, from the negative electricity. This effectively uses the electricity of the treatment to push medicine into your injured tissues.
The Perfect Electrodes for Iontophoresis
The Trivarion Buffered Large Iontophoresis Electrodes were designed to be the most comfortable electrode available on the market today. Not only were the Trivarion electrodes designed with a larger ground surface area to decrease current density, they are also buffered using Carbon-Ag / AgCl technology, engineered to maintain correct pH during treatment. With the Large Trivarion Iontophoresis Electrode, practitioners are able to deliver up to an 80 mA/min. dose from a 3.5cc medication fill during an iontophoresis treatment.
The Dynatron ion Iontophoresis Electrodes are economical electrodes without sacrificing patient comfort. Each Dynatron ion Electrode and was designed to deliver uniform distribution of electrical current for safe and easy drug delivery. Dynatron ion Iontophoresis Electrodes are available in small, medium, large, and butterfly sizes, making it a great choice for practitioners that need to treat different areas of the body and diverse patient conditions.