24th Jul 2017
Do you ever wish you could customize your therapeutic modalities? From increasing brand recognition to meeting your clinic's space and treatment needs, customization can go a long way towards increasing a therapeutic modality's intrinsic value. Whirlpool therapy tubs are one of the few rehabilitation modalities that can be fully customizable to your clinic's unique needs.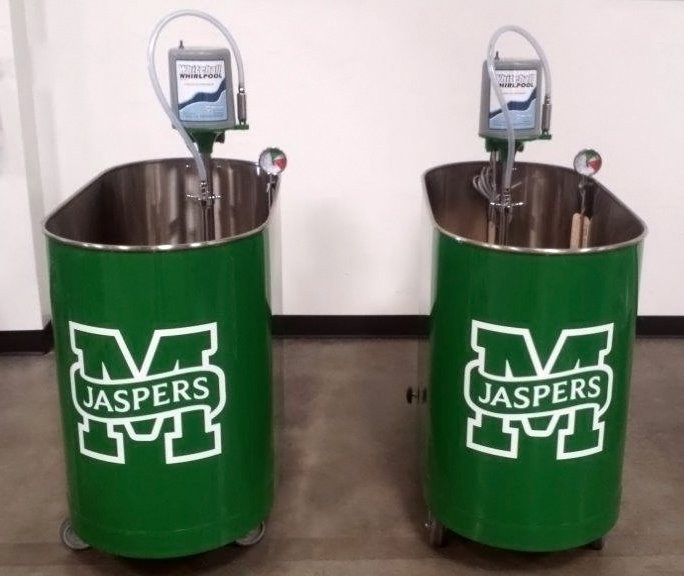 A Whirlpool therapy tub can be customized in the following ways:
Hardware & Plumbing
Stationary or Mobile

Mobile with Separate Drain Pump

Stationary with Separate Drain and Overflow

Sports Whirlpool - with Legs

Sports Whirlpool - with Legs and Separate Drain Pump
Aesthetics
Applied Logos

Enviro Glaze

Powder Coating
Whirlpool Therapy Tubs Customizable Options
Stationary: A stationary unit is perfect for clinics that have a dedicated space for whirlpool therapy. Available in diverse sizes, stationary whirlpools can treat various patient needs. For example, the 110-gallon stationary whirlpool from Whitehall is perfect for treatment of sports-related injuries and can be used to treat the extremities as well as larger areas of the body like hips, back and shoulder areas while being long enough to accommodate larger athletes. In contrast, the Whitehall 15-gallon stationary whirlpool is great for targeting smaller areas such as the foot, ankle, elbow, forearm or hand.
Portable: Portable tubs are great for clinic's that either don't have one designated area for whirlpool therapy or need the ability to offer whirlpool therapy in multiple areas or treatment rooms within a clinic. This option increases the versatility of offering whirlpool therapy at your clinic. For example, a 10-gallon Whirlpool with hydrolift from Whitehall gives practitioners the ability to move the whirlpool anywhere in the clinic and the hydrolift gives practitioners the option to treat both lower and/or upper extremities as needed.
Customize the Drainage for Your Whirlpool However You Need


Mobile with Separate Drain Pump and Overflow: When working with whirlpool therapy, one of the first considerations is how to drain and dispose of the water between patients. There are several great whirlpools on the market today that come complete with a separate drain pump and overflow, making draining of the whirlpool device a snap. Consider the Whitehall Little Champ Whirlpool with Separate drainage pump. Not only is the Little Champ Whirlpool designed to be used on a table-top, floor or stand, but the pump is located on the underside of the mobile whirlpool tank as opposed to simply draining. This allows use of a hose to direct evacuated water to a chosen receptacle giving it portability and ease in water disposal.
Stationary with Separate Drain and Overflow: If you're worried about wasting water or creating a mess by offering whirlpool therapy, then a stationary whirlpool unit with separate drain and overflow would be the perfect machine for your clinic. The overflow option in conjunction with the standard drain works to prevent overflowing, minimizing potential mess and water waste. The Whitehall 110-gallon Sports whirlpool with separate drain and overflow is perfect for athletic centers as well as rehabilitation facilities that want to offer hydrotherapy to the extremities, hips, back and shoulder areas, accommodate various body types and control water waste.
Sports Whirlpool with Legs: If you don't like the look of stationary whirlpool placed flat on the floor, a hydrotherapy device designed with legs is the perfect choice! Consider the Whitehall 110-gallon Sports Whirlpool with legs! Not only does this whirlpool sit upon short legs, it also includes a mobile turbine which uses reverse-pump and hose assembly in order to easily empty the whirlpool.
Sports Whirlpool with Legs and Separate Drain Pump: This option gives you a whirlpool tub that sits on legs, but includes a separate drain pump to facilitate simple, yet full water evacuation. The Whitehall Sports Whirlpool with Legs and Separate Drain Pump includes these features in addition to a mobile turbine to improve complete emptying of the whirlpool.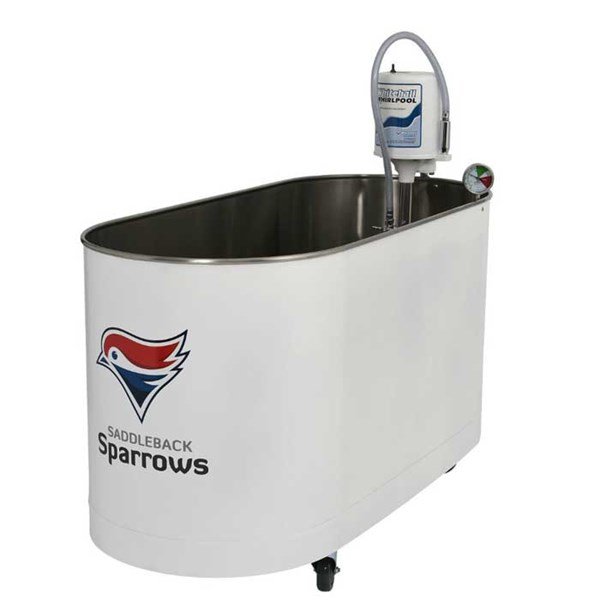 Add a Logo or a Glaze to Your Custom Whitehall Whirlpool
Applied Logos: Targeted branding increases public recognition, but also improves a clinic's professional appearance while sharing their clinic's culture and values. It's easy to increase visibility and remain consistent with branding by choosing to have your clinic's specific logos, graphics or facility name applied on a customized whirlpool unit.
Enviro-Glaze: Looking for an attractive alternative to standard stainless steel whirlpool therapy tubs? Whitehall offers Enviro-Glaze to offer clinics the ability to have their whirlpool coated in designer colors. Enviro-Glaze was developed by Acorn Engineering Company and is a finish alternative which gives clinic's a pop of color blended with function. Available in smooth or textured finish, Enviro-Glaze is extremely long-lasting in maintaining its flawless, brilliant color finish.
Read More: Color Chart for Whitehall Enviro-Glaze Powder Coating
Powder Coating: Fully thought out branding includes a chosen color-scheme. Remain consistent with your clinic's chosen color-scheme by choosing to have your whirlpool powder-coated in classic colors. Enviro-Glaze Powder-Coating offers several features and benefits that keep it heads-above other brands including:
Each whirlpool features the same durable stainless steel, but with electrostatically sprayed powder in high-end colors

The Enviro-Glaze is a superior finish and a colorful alternative to plain stainless steel

Not only is the Enviro-Glaze Powder-coat durable, it can endure impact and won't bubble or chip with use.

Clean-up of your Enviro-Glaze powder-coated Whitehall whirlpool is easy with a solution of warm water and mild soap
Read More: Whitehall's Enviro-Glaze Powder Coating Options for Therapeutic Whirlpools
Whirlpool therapy is a wonderful treatment modality to offer patients. Whirlpool therapy can be utilized for myriad uses and therapeutic goals including:
Acute and chronic pain relief

Reduction in swelling and edema

Improvement in range of motion and functional movement

Wound care

Decreased recovery time
In addition to its therapeutic uses, whirlpool therapy also works well with other rehabilitation modalities in order to improve treatment outcomes. Also, whirlpool therapy as part of hydrotherapy, is one of the oldest treatment modalities that has been scientifically proven to not only reduce pain and swelling, but can also improve multiple body systems including: cardiovascular, respiratory, nervous, musculoskeletal and genito-urinary, making it a powerful treatment modality on multiple levels. Coupling the benefits of whirlpool therapy with the ability to customize your clinic's whirlpool therapy tub to meet your facility's unique needs makes the decision to offer this powerful modality an easy one.