21st Oct 2014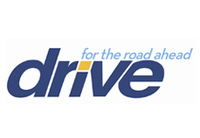 Drive Medical is a global manufacturer of durable medical equipment. The company was started in 2000 under the name Medical Depot, Inc. The name was later changed to "Drive" to underscore their commitment to improving the lives of those who use their products.
Drive Medical has manufacturing and distribution facilities throughout the world. Besides the United States and Canada, Drive Medical operates the United Kingdom, Germany, Romania, China and Taiwan.
ProHealthcareProducts.com is proud to carry quality products made by Drive Medical. Our customers can view the Drive Medical product line on our website by clicking on "Drive Medical" in the "Manufacturers" box below the product menu.
The Drive Medical product line consists of:
The user manuals referenced here document the use of Drive Medical products sold on ProHealthcareProducts.com. For specific questions, please contact us.