25th Apr 2018
Just because a person has mobility issues doesn't mean they want to use any old mobility device. Especially when there's a need to use mobility devices long term, it's important to find a scooter that also meets every day needs but also is something they enjoy using. When considering mobility scooters, innovation in designs have led to the possibility of using a scooter that is both functional and fun. The eWheels EW-54 heavy duty mobility golf cart style scooter is the perfect choice when looking for a scooter that fits in with an active lifestyle.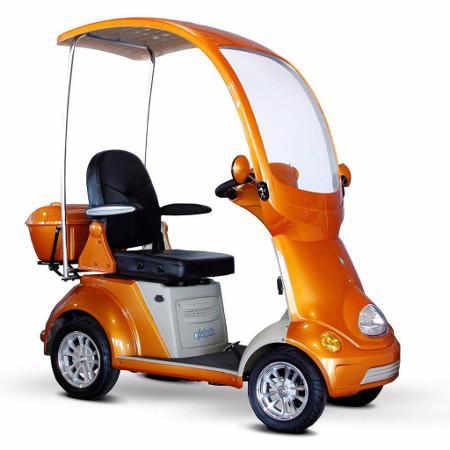 Let's look at some of the great features found in the EW-54 4-Wheel Scooter
Covered Roof: This golf cart style scooter has a covered roof that protects riders from both weather conditions and sunburn, making it perfect for outdoor use.
Perfect for Errands & Travel: With a battery range of up to 40 miles and the ability to reach speeds up to 15 mph, The EW-54 Scooter is perfect to run everyday errands or to take short trips. This gives people with mobility user's access to much needed independence and choice when it comes to planning their day to day activities.
Super stylish: This is the most fun feature, because it let's riders pick a color that suits their personality. The EW-54 comes in 3 different colors schemes: sassy red, stylish orange and sour apple green.
Indoor/Outdoor Use: Since scooters are an investment, it's important to choose a scooter that has flexibility with its use, primarily if it can be used both indoors and out. With heavy duty tires and a powerful motor, the EW-54 4-Wheel is great for both indoor and outdoor use giving riders access and flexibility with its use.
Great accessories: These accessories make the EW-54 a luxury scooter. With a digital electric dashboard, 2 stereo speakers with music system and cargo box, this scooter is not only stylish, but fun to drive.
When people experience mobility issues, finding mobility devices that work with their lifestyle can be a challenge. Most scooters are designed solely for function, but for users who need to use them for long term use, there is a desire for more fashionable choices. The best part of eWheels EW-54 4-Wheel Covered Scooters is the perfect marriage of fun and functionality, making it the perfect choice for every day use.