12th Aug 2012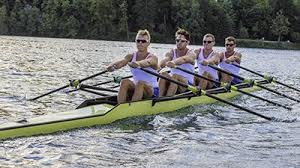 There are a number of ways for coaches of sculling teams (an Olympic sport where competitors row on both sides of the boat) to determine who makes a team. Factors like height, weight, and arm-span are currently major factors in selecting an oarsperson. In many other sports, the person who runs or swims fastest, jumps highest, or throws the ball the hardest is the person who makes the team. But in sculling, determining who should be on a particular rowing team isn't quite as clear cut. When sculling athletes reach the top of their sport there is often very little observable difference between first and second place.
One way sculling coaches might determine who makes a team and who doesn't is by testing the lower-body strength of each athlete using a leg-pressing dynamometer test. This theory was recently tested and the results published by the International Journal of Sports Physiology and Performance. The study tested twelve elite female rowers. According to the study, factors such as height, arm-span, sitting-height, body mass and body fat played less of a factor in the success of the rowers than leg-pressing strength as measured with a dynamometer. The study suggested that future coaches of elite oarswomen consider the strength of the leg-drive as part of selecting a crew.s or swims fastest, jumps highest, or throws the ball the hardest is the person who makes the team. But in sculling, determining who should be on a particular rowing team isn't quite as clear cut. When sculling athletes reach the top of their sport there is often very little observable difference between first and second place.
It is obviously important for an Olympic sculler to have a high level of on-water boating skills and 2000 meter ergometer endurance. But all things being equal, the athletes leg drive strength just might be the difference between gold and silver.
However, this is just one example when strength is an important factor in overall athletic performance. Soccer, football, tennis, and more all rely on an athlete's strength and range of motion. Because of this, it's important that personal trainers, athletic coaches and athletes alike have access to reliable strength testing tools to not only establish current strength rates, but to evaluate the effectiveness of training programs and track progress of necessary gains and make adjustments as needed.
The Best Manual Muscle Testing Tools for Sports Training
MicroFET 2: For one of the most popular manual muscle testing tools on the market today, you need to look no further than the MicroFET 2 handheld dynamometer. One of the reasons that Hoggan Health's MicroFET 2 is so popular is that it is recognized within the medical community for providing reliable results. Not only that, but since it's completely wireless, it can be used anywhere!
JTech Commander: For practitioners looking to identify muscle weakness and pinpoint specific muscle groups that need improvement, the JTech Commander PowerTrack II is a great choice. Not only that, but this digital dynamometer allows for storage of up to 40 tests with up to 4 repetitions on each side without the need for a computer. The JTech Commander automatically identifies peak force while computing both CV and strength deficits, all useful to have when creating strength training regimens for athletes.
However, as most trainers and rehabilitation practitioners know, there is more to functional movement than just strength, but range of motion plays an important role in athletic performance. Luckily there are several tools coaches and practitioners alike can measure both muscle strength and full range of motion.
Innovative Dynamometer & Range of Motion Combination Devices
One of the benefits in using a combination device is that it cuts down on testing times and the need for additional devices. One of the best manual muscle testing and range of motion devices available on the market today is the MicroFET 3 Muscle Tester & ROM device which allows practitioners the ability to accurately and efficiently measure strength and range of motion in one simple to use measurement device. Fast and efficient, the MicroFET 3 is the only device on the market that is a handheld dynamometer and inclinometer allowing practitioners to perform two measurement tests with one machine and can be used from diagnosis to cessation of treatment.
Easy to Use Dynamometer for Sports Training
Whether increasing athletic performance or recovering from an injury, making the most of treatment and training time is essential. With any equipment comes a learning curve with how to use it correctly and get reliable results. For practitioners looking to maximize treatment or training time, JTech Commander Echo Manual Muscle Testing Dynamometer is a cutting-edge option. Featuring an advanced pop-in "quick connect" system which allows physicians to quickly and easily change testing pads cutting down on set up time. And with the ability to easily customize testing protocols, the JTech Commander Echo further saves valuable treatment and training time so practitioners can focus on what's important: diagnosing injuries and assessing strength deficits and progress.
Related Article : JTECH Echo Console Buying Guide
Best Grip Dynamometer for Sports Training
Grip strength is another important aspect of athletic performance. Sports like sculling, tennis or baseball all rely on good grip strength for optimum performance. With a hydraulic grip dynamometer like theJamar 200 lb. Hydraulic Hand dynamometerwhich provides practitioners with exact grip strength results necessary for establishing a patient's baseline of strength and determining any deficits. Another testing device that is easy to use the Jamar dynamometer features an adjustable 5-position handle and a maximum strength indicator that remains after each reading until reset.
Full Hand Evaluation Kits for Sports Training
For trainers looking to perform a comprehensive hand strength evaluation, a kit like the Digital Jamar 3-Piece hand evaluation set which was specifically designed to give practitioners all the necessary tools for a basic hand and finger evaluation in one convenient, portable package. With a cutting-edge handheld dynamometer, reliable pinch gauge and full-range goniometer practitioners can easily and efficiently provide a full-scale evaluation of hand strength. What's more, with a convenient carrying case, practitioners can easily store and travel with the Jamar Hand Evaluation kit as needed.
Contact us today!
We can help your practice find the perfect manual muscle testing device for your athletes. Contact us today and we'll answer any questions you may have about manual muscle testing and range of motion testing. Call us today at 1-801-770-3328 for more information.