9th Mar 2016
Laser light therapy is gaining prominence in our clinic for many, diverse patient populations. In addition to being applicable for different issues, laser light therapy is time efficient, non-invasive and gentle. More and more studies are showing that laser light therapy is useful for reducing pain and edema while helping injured tissue heal.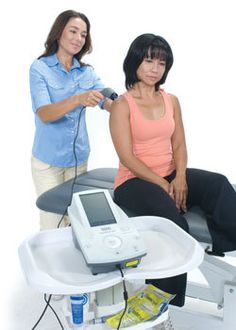 How does Laser Light Therapy Work?
The Laser Light therapy issues short wavelengths of light (600-1000 nm) which is able to penetrate human tissue. The light permeates through the skins layers and aids in the healing of tissues while reducing pain and swelling. Additionally, since low level laser therapy is able to deeply penetrate the skin, the immune response is elevated, creating both anti-inflammatory and immunosuppressive effects. In a nut shell, laser light therapy has been found to supply vital energy and oxygen to injured cells.
Some of the issues we use laser light therapy to address are:
Carpal Tunnel

Temporomandibular joint dysfunction

Cervical Radiculopathy

Plantar Fasciitis

Post ACL Reconstruction
A reliable laser light therapy machine we've found is the Mettler Therapeutic Laser Sys-Stim 540 LC, which is a long product name to remember but worth the effort. This top of the line laser therapy machine has many ideal features.
Top Features of the Mettler Therapeutic Laser Sys-Stim 540 LC
Great visibility: The Mettler Therapeutic Laser Sys-Stim 540 LC comes with a 785 nm laser probe with visible blue LEDs that illuminate the treatment field, making it easy to see while you treat.
Easy to set treatment parameters: With a user-friendly control unit with up to 10 custom protocols, clinicians are able to set treatment time, continuous / pulse modulation modes and laser output energy.
Easy Storage: This device has convenient holders located on both sides of the unit help to store applicators when not in use.
User Friendly Adjustment: If during treatment the practitioner needs to adjust the parameters, laser output can be easily adjusted via controls on the both the laser and cluster applicators.
Mobile: The Mettler Therapeutic Laser Sys-Stim 540 LC comes standard with a battery option for truly mobile laser therapy.
Laser Light Therapy is a versatile, non-invasive modality that can help reduce pain and swelling while also facilitate in tissue repair. It's important to choose the best device for your clinic. The Mettler Therapeutic Laser Sys-Stim 540 LC has all the features clinics need while providing reliable, quality laser light therapy for our patients.
For more information about laser and light therapy products checkout ProHealthcareProducts.com.