11th Apr 2017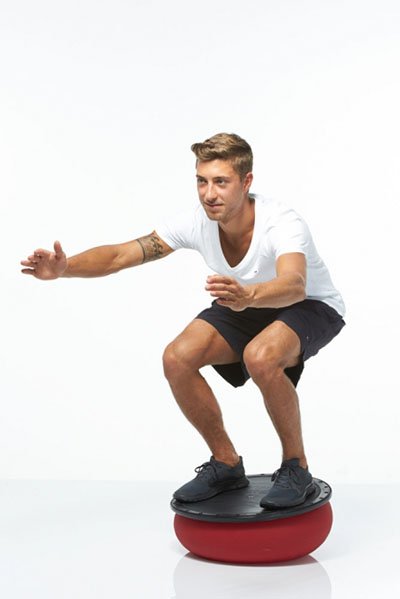 Balance tools and training equipment look like a lot of fun, from cut-in-half giant stability balls to small circular "pillow disks". However, these tools are carefully designed and crafted to help people improve their balance. And while, most people believe that the elderly population is concerned about balance, the truth is balance plays a key role in physical fitness and health.
Professional athletes and those interested in physical fitness now recognize that balance training helps them to perform better in their sports. Not only that but a strong core, which is developed as a part of balance training, is an important part of stabilization and coordination in daily activities like walking, transferring in and out of vehicles, etc.
In order to increase the skills associated with balance, specially designed tools (like those cute stability balls and disks) are a great asset in physical training regimens, sports training or rehabilitation programs. Yet, not all balance training equipment is created equal. Those balls and disks may look like fun (and they can be), but make no mistake quality counts. It is for this reason, Prohealthcareproducts.com has decided to carry the Togu line of balance training tools and equipment.
What is Togu?
Togu is a family-run business founded by two brothers, Toni Obermaier and Gust Obermaier. Gust Obermaier was inspired to try to produce a one-piece ball without the needs for seams or glues. Out of that inspiration came a commitment to provide top-quality, durable balance training equipment. The Togu philosophy is simple and profound, "The human being is the focus."Togu creates innovative balance equipment with an eye to meet each individual at their own skill level.
Togu At-A-Glance:
The Togu line is comprised of cutting edge balance training equipment designed with innovative Anti-Burst technology that offers many benefits:
These benefits are compounded when combined with the advantages offered by balance training. Balance training offers many benefits for all populations from professional athletes to people in recovery from an injury or illness.
The Top 5 Benefits of Balance Training With TOGU include:
Improve functional mobility in daily tasks and activities

Increase static and active balance

Cultivate strength in large muscle groups, stabilizer muscles and the core

Increase ease of movement in day-to-day activities including walking, running, and transfers

Improve posture and ability to maintain a neutral position of the spine both in static and active positions
We've created a list of some of our favorite Togu balance products to give you an overview of this exceptional company.
Top Togu Products for Balance Training
ABS Powerball: Stability balls or Powerballs are popular tool in fitness and rehabilitation. Stability balls are a multi-functional piece of fitness equipment that can help improve strength, cardio endurance and balance. In rehabilitation, exercise balls provide patients with the ability to rebuild strength without added muscle and spinal strain during certain movements.
Dynair Pro: The Togu Dynair Pro is a combination of an inflatable ball and stable base giving the opportunity to improve skills in balance and coordination. The Dynair Pro is a great tool for rehabilitation because it provides sensorimotor training in one convenient piece of balance equipment.
DynaSwing Balance Ball: The Togu Dynaswing is a balance trainer and dynamic exercise ball in one. This is an exceptional balance tool suitable for fitness and rehabilitation and helps develop deep stabilization muscles, cognition and stability.
Dynair Senso Cushions: The Togu Dynair Senso cushions are a great choice for exercising the back and improving balance. The Dynair Senso cushions can work in two different ways:
1. By strengthening the muscles of the back and improving posture while sitting
2. Strengthen stabilizing back muscles with specific therapeutic exercises
Balanza BallStep Trainers: The Togu Balanza Ballstep Trainers are the perfect tools to use for both sensory-motor training and functional training. The Balanza trainer was designed with air-filled balls with ABS technology underneath a wooden platform creating dynamic instability. This works to activate deep stabilizing muscles and joints necessary for balance and functional training for stability. Whether as part of therapy or fitness, the Togu Balanza Ballstep trainers are a cutting-edge tool to add to any regimen.
Togu Balance products are the most advanced, durable training and balance therapy products on the market today. We'll explore the importance of using Togu's innovative balance equipment in both rehabilitation and fitness in future segments.