7th Nov 2016
The Benefits of a Modular System
Diagnostic tests are important throughout the entire rehabilitative process. We've talked about manual muscle testing and its important role in rehabilitation before. In a nutshell, manual muscle testing is an evaluative and diagnostic tool used by most practitioners throughout a patient's rehabilitative journey. The use of a manual muscle testing device helps practitioners to:
Establish a patient's own baseline of strength

Identify areas of deficits, weakness and compensation

Track rehabilitation progress and adjust for gains
Range of motion testing plays its own important role in rehabilitation by establishing a person's flexibility in the movement around a joint and the level of function for each body part. There are three types of range of motion which are important to be tested are:
Passive range of motion-when the joint is inactive

Active-assistance range of motion-when a patient moves around the joint with some assistance

Active range of motion-patient moves independently with verbal cues
Inclinometers and Goniometers for Range of Motion Testing
To measure range of motion, physical therapists will use two devices: inclinometers and goniometers. Goniometers measure the angle at a joint and an inclinometer can measure joint angle at extension and flexion for spinal angles. These two tools are essential in establishing a baseline for range of motion and identifying either areas of deficits or hypermobility.
Handheld Dynamometers for Manual Muscle Testing
The easiest and most accessible way to perform manual muscle testing is with a handheld dynamometer. A study published in the Indian Journal of Critical Care Medicine found that acquired weakness is a common complication in critically ill patients. The study found that the use of handheld dynamometers is useful in detecting minimal muscle strength changes that could negatively impact a patient's outcome with care.
Choosing the Best Assessment Equipment
While handheld dynamometers and inclinometers are essential tools in rehabilitation, the question for clinics becomes how to choose the testing devices for a clinic? The downside to most rehabilitation equipment, handheld dynamometers included, is clinics need to purchase a device for each practitioner. Additionally, it can be hard to predict just how many devices will ultimately be needed which can lead to multiple purchases of devices that aren't necessarily compatible with each other. That's where modular devices come in! A modular device allows clinics the ability to add on equipment as needed. This is especially important when considering the purchase of assessment devices.
A patient may need to have their strength or range of motion tested multiple times throughout their rehabilitation. Additionally, it may be necessary to measure strength and range of motion for the most accurate assessment. A modular manual muscle testing system solves these complications, by keeping patient testing results in one place and giving clinics the ability to connect multiple devices. The JTech Commander Echo Console system is an example of a modular system that combines innovation and accessibility to create an evaluation system that has many advantages over individual handheld dynamometer devices.
What is the JTech Commander Echo Modular Manual Muscle Testing System?
The JTech Commander Echo Console is both wireless and portable, bringing advanced levels of technology and versatility to outcome assessment equipment. Being a modular system, the JTech Commander Console gives clinics the ability to purchase only what they need with the option to add on as their practice expands.
How Does the JTech Commander Echo Console Work?
Clinics start off with a single console, which can record data for up to 7 different devices. The console has many benefits including:
Automatic data collection

Data Storage

Data Computation and statistics

Testing prompts when working in a series

Easy joystick operation
With the JTech Commander Console, clinics can then choose to work with one device or any combination of compatible assessment devices they need that meet their clinic needs. The JTech Commander Echo Console is compatible with a whole system of assessment devices that are essential in creating the most accurate picture of a patient's strength and range of motion. From spinal range of motion to hand pinch strength, the beauty of the JTech Commander Echo System is that each device can connect to one console for storing patient assessment results. So whether a clinic needs just one type of device or an assortment, the JTech Echo Commander Console can meet each clinic's unique assessment requirements.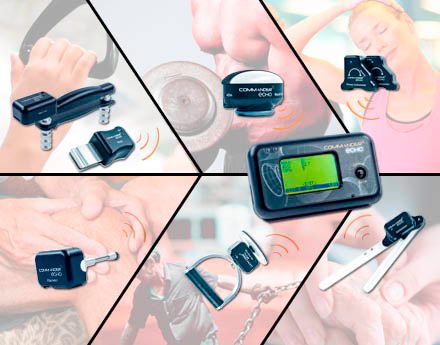 Commander Echo Wireless Dual Inclinometers
The Commander Echo Inclinometer is a state-of-the-art inclinometer that offers more features than a non-computerized model. The Commander Echo Inclinometer is time efficient with many assessment options and proven reliability.
Commander Echo Wireless Goniometer
This innovative goniometer allows practitioners to measure range of motion (ROM) for the extremities, hands and feet. The Commander Echo Goniometer was designed to be simple to use in order to increase assessment efficiency.
Commander Echo Wireless Muscle Testing Dynamometer
The Commander Echo MMT is a top-of-the-line dynamometer that helps practitioners establish a baseline of muscle strength and identify areas of weakness.
Commander Echo Wireless Grip Dynamometer
The Commander Echo Grip Dynamometer was designed to not only be portable, but to be easy to use giving practitioners the ability to test for hand strength or maximum effort.
Commander Echo Wireless Algometer
For patients that suffer from chronic pain, such as fibromyalgia or arthritis, it can be important to establish pressure thresholds and pain tolerance. The Commander Echo Algometer easily measures both.
Commander Echo Downloader
Sometimes it's necessary to create reports with patient data. With the Commander Echo Downloader software practitioners can create data collection reports easily with the click of a button. The Echo Downloader has many benefits including:
Direct console interface

Easy to read reports

Fully customizable
Commander Echo Wireless Pinch Dynamometer
Hand therapy, Functional Capacity Evaluations, and repetitive trauma disorders may require the ability to record pinch strength. The Commander Echo Pinch Dynamometer was designed with precision technology that achieves greater than 99% force accuracy.
Commander Echo Wireless Static Force Gauge Dynamometer
Outside of rehabilitation, it can be necessary to determine consistency of effort in worker's compensation and FCE exams. The Commander Echo Wireless Static Force Gauge was designed to be used when performing Job Analyses, Functional Capacity Evaluations (FCEs), Ergonomic Studies, National Institute for Occupational Safety and Health (NIOSH) Lift Tests.
Related Article: JTECH Commander Echo Manual Muscle Tester and Console