26th Apr 2018
Low back pain is the second most common cause of disability in the United States and is the most common reason for sick days for employees. Low back pain is costly for both workers and employers, costing an estimated 149 million days of work lost per year. In addition to the loss of productivity, the medical costs are burdensome for both groups costing between 100–200 billion dollars annually.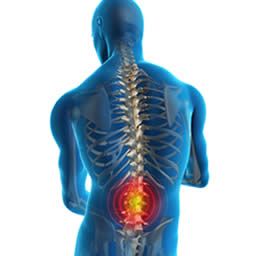 Low back pain is so prevalent in the population, over 80 percent of the population will experience an episode of LBP at some time during their life. While it's true some cases of low back pain will resolve within a few months of onset, the reality for most people is a higher risk of recurrence. Unfortunately, up to 85% of the population who experiences LBP once will suffer another recurrent episode and run the risk of chronic LBP for the rest of their lives. https://www.ncbi.nlm.nih.gov/pmc/articles/PMC4339077/
The statistics don't lie. Low back pain is a big problem for the population, but the good news for patients, rehabilitation practitioners and sports training specialists is there is a new powerhouse modality in town: LED-Infrared light therapy.
How Does LED Therapy Work to Reduce Pain?
Healing with the use of heat is one of the first therapeutic modalities. In addition to hot packs and heating pads, the development of transcutaneous electrical stimulation (TENS) in 1975 by Melzack looked to create a hot therapy treatment for chronic pain using electrical stimulation. This treatment paved the way for the development of infrared therapy using LED technology. Studies have found that LED therapy is beneficial in reducing pain. A randomized controlled trial published in Pain Research and Management found that applying infrared technology using LED wraps significantly reduced pain for patients diagnosed with chronic back pain. Not only that, but infrared pain therapy proved to be a safer alternative to other heat therapy devices because there is little risk of dangerous skin changes or thermal injury. https://www.ncbi.nlm.nih.gov/pmc/articles/PMC2539004/
When LED infrared light is used therapeutically, it penetrates deep into the muscle tissues of the body. As a result, the treatment is absorbed by the mitochondria--the energy or powerhouse of the cell, causing an increase of metabolism in the collective cells. This jumpstarts the recovery process whereby healing is stimulated in muscle, bone, skin and subcutaneous tissue. Not only does speeding up the healing process relieve pain more quickly, it helps reduce inflammation by improving local blood circulation and eliminates muscle spasms.
The benefits of LED Infrared Therapy At-A-Glance:
Initiates tissue repair and healing
Reduces chronic and acute pain
Lowers edema and inflammation
Improves blood circulation
Eliminates muscle spasms
Innovations in rehabilitation modalities have led to products utilizing LED technology which can be applied in various patient settings for myriad injuries and chronic conditions, including low back pain. There are several great infrared products on the market today which can be used by practitioners and patients alike to relieve their pain. Here are a few examples of rehabilitation devices using infrared technology.
The Best Infrared Devices for the Treatment of Low Back Pain
One of the best infrared products for treat back pain is the dpl® Flex Pad Pain Relief System.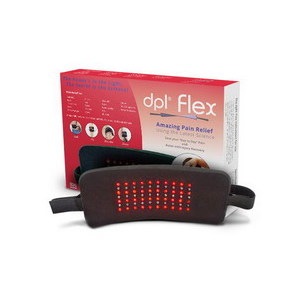 dpl® Flex Pad Pain Relief System: dpl® created the Flex pad relief system to help patients facilitate injury healing and provide relief for chronic and acute pain. Made with medical-grade infrared light, the dpl Flex pad is a great choice to help patients with chronic low back pain. Not only can the Flex pad provide pain relief in just 20 treatment minutes, it's simple enough for patients to use at home.
The Benefits of the dpl® Flex Pad Pain Relief System
FDA-cleared, OTC Class II medical device.
Designed to fit different areas of the body comfortably, including the low back
USB powered— which can be plugged in to an outlet or even in the car via USB adaptor
Made with medical-grade 60 powerful LED lights which cover a large treatment area (8" x 5") for full back coverage and deep tissue penetration.
Provides quick pain relief in an efficient 20 minutes
No negative side effects
Non-invasive, non-ablative, drug-free alternative to oral pain medication.
Durable and engineered to last for years.
Includes:

dpl® Flex Pad Pain Relief System
One-year warranty
USB power supply and cable
Adjustable Velcro® brand fastener straps
Instruction manual
Looking for more targeted treatment? Consider the Pain Relief LED which provides precise pain relief for specific areas and trigger points found in the low back.
Pain Relief LED – Infrared and Red – Light Therapy (Clinical):The Revive Light Pain Relief LED is a clinical-quality infrared and red-light therapy device which can be used to target specific muscles of the back: from the erector spinae to the latissimus dorsi. Not only can this device help reduce local muscle spasms, but it provides fast pain relief in just 20 minutes of treatment time.
The Pain Relief LED – Infrared and Red – Light Therapy also comes in a larger size with an 83% larger treatment area! This makes it the perfect choice for clinics treating diverse patient populations and provides fuller coverage for areas like the low back.
OTC Class II rehabilitation device, FDA cleared
Medical grade device can be used to target specific muscle groups, penetrating deep into tissue relieving pain and stiffness
Facilitates healing, reduces inflammation, promotes circulation
No negative side effects and natural pain relief alternative to oral pain medication
Lightweight design for simple handheld use
Device can be used as part of a therapeutic treatment or patient's own use.
Safe for all skin types, including sensitive skin
Features dpl® Technology which provides enhanced treatment effectiveness
Includes:

Convenient handheld design
One-year warranty
Handy travel bag for treatment on-the-go
AC/DC power supply
Instruction manual
Innovations in non-invasive techniques to treat low back pain give practitioners and patients alike valuable alternatives to traditional oral pain medication and more invasive techniques like surgical intervention. Infrared LED therapy devices are the perfect choice for low back pain because they are simple to use, yet incredibly effective.