27th Jun 2016
At the clinic we are sometimes asked about occupational therapy vs. physical therapy, as if they are two completely different sides in rehabilitation. When in reality, Occupational Therapy and Physical Therapy are complimentary professions. Occasionally, a patient will be confused as to what type of therapy they need. The answer is: it depends. Let's look at the two in order to clearly define each profession and their applications in rehabilitation.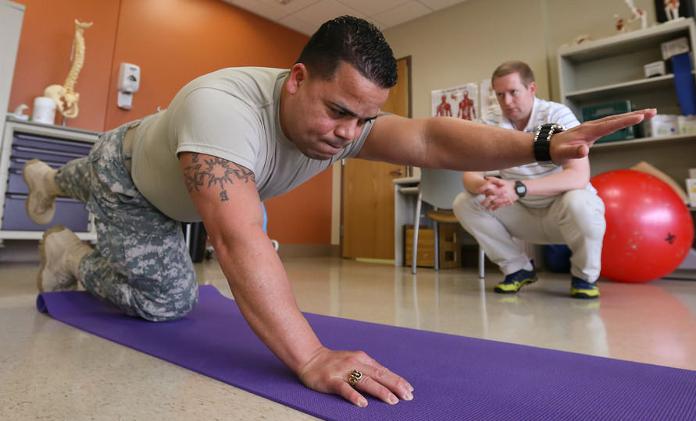 Definition of Occupational Therapy
Occupational therapy sounds like it would be designed to help people perform their jobs to the best of their ability. In a way, this is correct in that occupational therapy helps people perform the daily tasks needed both for their daily living and in order to perform their job tasks. For a more technical definition, occupational therapy assesses and treats people who have a physical, mental or cognitive disorder that inhibits their ability to maintain the necessary daily living and work skills.
Who Do Occupational Therapists Treat?
Occupational therapists treat everyone from young children to elderly patients across a broad range of abilities and needs. Some of the patients who would seek treatment from an occupational therapist are:
Children with Autism Spectrum Disorder

Patients with Traumatic Brain Injury

People suffering from Arthritis

Patients recovering from Stroke

Patients with soft tissue injuries that make daily tasks difficult to do on one's own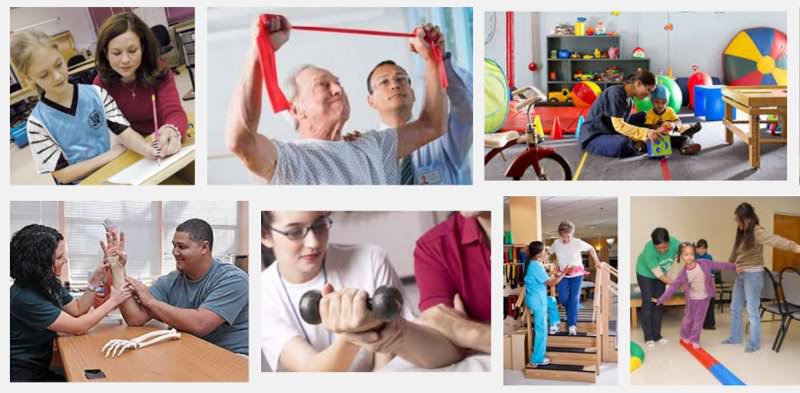 Some of the main goals an occupational therapist helps their patient's work towards are:
Achievement of personal goals: For example, an occupational therapist would help a child with a developmental disability work towards transitioning into a diverse-skills class room.
Maintain Health: Living with a chronic illness, like Rheumatoid Arthritis, requires skills to help a patient stay as healthy and remain as active as possible. An occupational therapist can work with patients with chronic illnesses manage their chronic condition.
Maintain, Develop or Rebuild Independence: Sometimes when a patient suffers a traumatic injury, like a stroke, they need help identifying and learning how to use assistive devices that will help them maintain, develop or rebuild their independence.
Participate in the everyday activities important to you, such as driving, visiting friends, going to church, and other activities that keep you involved with your community.
Occupational therapists use many different types of tools to help them assess and treat their patients. Here are some examples of equipment and how they can be used when being treated by an occupational therapist:
Occupational Therapy Tools
Functional Capacity Equipment: Used in assessment, Functional Capacity Equipment helps an occupational therapist evaluate a patient's ability to perform specific functions and can give them a baseline for strength, position tolerance, mobility, coordination, endurance as well as fine motor skills.
Hand Evaluation Set: Hand evaluation kits include tools like a hand dynamometer, pinch gauge, finger goniometer provides a way to measure and identify deficits in hand strength.
Paraffin Bath: A paraffin bath is useful when treating patients who experience stiffness in their hands, like those with arthritis, in order to decrease their pain and increase the mobility of their fingers either before or after exercising the hand as a part of occupational therapy.
Pegboard Tests: Pegboard tests are useful for occupational therapists in order to evaluate a patient's dexterity and hand-eye coordination.
Play Therapy Equipment: From adaptive swings to sitting wedges, an occupational therapist will use play therapy equipment to not only engage their child patients, but also increase proprioceptive strength, vestibular stimulation, increase function and independence.
While this list isn't exhaustive, it gives a good sample of some of the tools an occupational therapist will use to evaluate and treat their patients.
Now, where occupational therapists work on the fine motor task required for daily living and work environments, a physical therapist helps patients who have sustained an injury or may have a chronic condition reduce pain and improve or restore mobility.
Who Do Physical Therapists Treat?
Physical therapists treat a wide range of soft-tissue injuries and chronic conditions including:
People suffering from arthritis, including Rheumatoid and Osteoarthritis

Anyone with Sciatica and Sciatic nerve pain

Athletes recovering from ACL injuries and reconstruction

Workers suffering from Carpal Tunnel Syndrome

Patients with chronic conditions like Multiple Sclerosis or Fibromyalgia

The main goals in physical therapy are:
Increase a patient's range of motion and ability to move: For example, a physical therapist may use joint mobilizations on a patient with frozen shoulder.
Decrease swelling and any pain: Using a multitude of modalities, from heat to ice, ultrasound to low-level laser therapy, a physical therapist works to decrease any swelling or pain a patient may experience.
Restore Function: When a patient undergoes an ACL reconstruction, a physical therapist will work with them to be able to regain functionality of the knee and avoid future pain or injury
Prevent Disability: For patients that experience an injury or chronic condition that may inhibit their independence or ability to work, a physical therapist will work towards maintaining their independence and lifestyle. For example, someone who has had carpal tunnel surgery and would like to return to work would work with a physical therapist to prevent a reoccurrence of pain.
And similar to occupational therapists, physical therapists utilize many different tools and modalities in the evaluation and treatment of their patients.
Physical Therapy Tools
Ultrasound/TENS Combination Therapy: Ultrasound therapy along with Transcutaneous Electrical Nerve Stimulation (TENS) can be used to reduce pain, muscle spasms and increase range of motion in a non-invasive way. It can be used to treat patients with chronic pain or injury. Combination therapy units combine 2 modalities into one powerful rehabilitation tool.
Low Level Laser Therapy (LLLT): Low-level Laser Therapy is a non-invasive modality that uses very short wavelengths of light (600-1000 nm) to penetrate human tissue which can facilitate tissue healing, reduces pain and swelling. LLLT has been shown to help the pain associated specifically with Osteoarthritis.
Underwater Treadmill: The underwater treadmill is a great option to use in physical therapy to help a patient increase strength and endurance, because a patient is able participate in land-based exercise (like walking) without the impact of body-weight and joint impact.
Cold Compression Therapy: Cold compression therapy is a great modality to use to decrease pain and reduce swelling. Cold compression therapy works by delivering deep cold to damaged tissues in order to reduce pain while the active compression speeds up recovery by improving circulation to the muscle tissues while they repair themselves.
Heat Therapy: From hot packs to paraffin therapy, heat therapy can be used to increase range of motion and decrease pain. Heat therapy can be used with patients of all ages, including children, and can be used in the treatment of chronic conditions and injury recovery.
Examples of Physical Therapy Tools

Combination Therapy
Units
Low Level Laser
Therapy Units
Cold Compression
Therapy Units











While it's true that occupational therapy and physical therapy are very different, they are actually two sides of the same coin in rehabilitation. I think of physical therapy as the big picture: reducing pain, increasing function in order to get back to the tasks of daily life where occupational therapy helps people successfully navigate the minutiae that makes up those tasks.
Realted Articles: