16th Sep 2015
Since becoming a mother, I've experienced a lot of body discomfort. Fortunately, working in physical therapy, I know there's a lot that can be done to not only reduce the discomfort, but eradicate it altogether. It is estimated that virtually all women experience some degree of musculoskeletal discomfort during pregnancy, and 25% have at least temporarily disabling symptoms. Today, more than 50% of mothers will return to work before the four month mark, and knowing women as I do, many of them are experiencing pain or issues, but are just working through it. Patient education is key in informing women of complicating issues that may arise after their baby is born and most importantly, what can be done about it.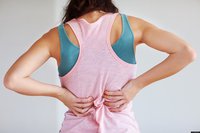 Low back pain is the most common issue requiring
Physical Therapy in post-partum women.
Common Postpartum Issues & Physical Therapy Treatments
Carpal Tunnel: Carpal Tunnel can show up to 3 years post-partum, making this a potentially debilitating problem for the 26% that work in an office setting. Physical therapy can help with carpal tunnel symptoms by using a combination of Splints, Cold-compression therapy, Low-level laser therapy and Therapeutic Ultrasound. This combination will not only alleviate the pain, pressure on the wrist, but also reduce the need for surgical intervention.
Low Back Pain: Low back pain is the most common complaint in post-partum women. Keeping in mind, the high percentage of the female workforce working in professions that keep them on their feet, this can be a disabling issue. Physical therapy can help low back pain with a regimen of Massage, Ultrasound, TENS units for electrotherapy and Iontophoresis. This regimen helps to reduce pain and inflammation associated with low back pain while reducing the need for oral medication or injections.
Incontinence: Up to 38% of post partum women report problems with continence. Further complicating this issue is many women are uninformed that there is help available to alleviate this problem, not merely mask it. Physical therapy can help women suffering from incontinence with: Biofeedback, Electrical Stimulation, Interferential Therapy, Ultrasound and Cold Laser Therapy. This treatment plan helps alleviate issues with incontinence in a non-invasive way reducing the need for a potential surgery and further recovery period.
Much attention is given to pregnant women's health, but very little attention is applied beyond the 8-12 week post-partum visit. Unfortunately all of the problems discussed can be experienced well after their baby has been born, leaving many women at a loss as to what they can do to alleviate their post-partum issues. There isn't a post-partum problem that can't be addressed with physical therapy. And in cases of carpal tunnel and incontinence, physical therapy can help avoid the potential need for surgery and the ensuing recovery. More education must be made available to post-partum women so they understand the complications that can arise and their options for treatment.