26th Aug 2015
Multiple Sclerosis (MS) is a chronic, usually progressive, disease that primarily affects young adults. More than 350,000 people in the United States and 2.5 million worldwide have been diagnosed with MS. Multiple Sclerosis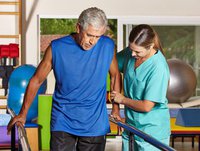 is a disease that involves the loss of myelin, a material that covers and protects the nerves in the body's central nervous system. Without myelin, nerves cannot properly communicate with each other, creating a multitude of symptoms. Multiple Sclerosis symptoms vary from person to person, depending on what part of the nervous system is affected but can affect areas that control movement, sensation, and mental processes. More than 91% of all persons with MS report difficulty walking, and difficulty with body movements. However, with appropriate medical support and physical therapy, the disease process can be controlled, and movement can be improved and maintained.
Top 5 Treatment Options for MS
With a progressive disease, early and varied treatment options are the best course of action with physical therapy as one of the best tools for a MS patient. Our number one goal when treating patients with MS is keeping them ambulatory and being able to participate in their day to day activities. And with progressive treatment, we're able to keep this progressive disease in check.
For more Physical Therapy news and Our Top Physical Therapy Devices see our blog at ProHealthcareProducts.com.