20th Oct 2017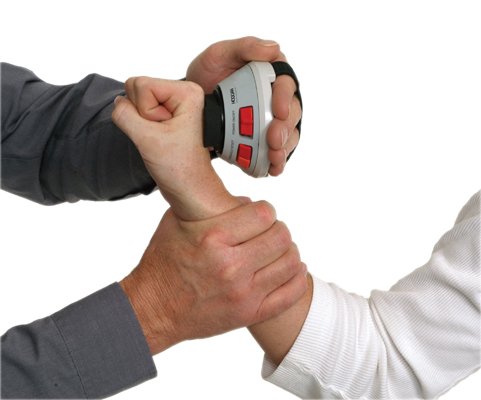 Measuring hand strength and manual muscle testing helps identify deficits after local injury as well as providing information on a patient's overall strength and health. The best way to measure hand strength or manual muscle testing is with the use of a handheld dynamometer. The best hand dynamometers are specifically designed medical instruments for assessing and measuring the maximum isometric strength of the hand as well as forearm muscles.
The measurements from a hand dynamometer are perfect for practitioners to use to:
Identify deficits as a result of chronic conditions or injury

Establish a baseline of strength

Track progress throughout a rehabilitation program
In addition to being used in rehabilitation, handheld dynamometers are also often used in sports training and recovery program to evaluate hand grip strength, but to also help create strength training programs in sports like baseball, tennis, rock climbing to help athletes improve athletic performance in activities like: throwing, catching or lifting.
When considering purchasing a handheld dynamometer, it's important to consider specific factors:
Patient population and needs

The need for wireless capability

The easiest way to chart patient results and information

Ease of use for testing and comfort for patient

Portability
Some of the best hand held dynamometers are hydraulic, like Baseline Push Pull Hydraulic Dynamometers, while others are digital like the MicroFET 2 Digital Handheld Dynamometer. Because there are so many handheld dynamometers on the market today, it can be confusing what are the best dynamometers to choose. We've compile a list of the best handheld dynamometers available on the market today based on specific criteria.
The List of the Best HandHeld Dynamometers
Top Digital Hand Dynamometers
The MicroFET 2 Handheld Dynamometer, manufactured by Hoggan Health is one of the most popular dynamometers available on the market today and for good reason. The MicroFET 2 is widely recognized by medical
rehabilitation community for documentation accuracy and validity. Additionally, the MicroFET 2 is one of the best handheld dynamometers available because it is completely wireless and can be easily used anywhere in a clinic or rehabilitation center.

Related Article: Hand Dynamometery with the MicroFET 2 Wireless Manual Muscle Tester
Another great digital dynamometer is the JTECH Commander PowerTrack II which has been proven to be a reliable digital dynamometer which gives strength testing results without the need for a computer.
The J-Tech Commander handheld dynamometer helps practitioners reliably test muscles strength and even helps identify points of weakness and areas of improvement. The biggest benefit of the Commander Power Track MMT, is that it can store 40 tests with up 4 repetitions per side, with the ability to also record peak force and compute CV and strength deficits. In order to ensure no outside forces can skew results, the Commander Hand Dynamometer has an ergonomic design for increased ease of use.
Related Article: Handheld Dynamometer Buying Guide
Best Dynamometer & Range of Motion Combination Devices
Treatment time is always at a premium in rehabilitation and recovery. Strength and range of motion testing, while valuable can become time-intensive, because it usually involves the use of two (sometimes more) devices. With the cutting-edge MicroFET 3 Muscle Tester & ROM device, practitioners have the ability to accurately and efficiently measure strength and range of motion in one simple to use measurement device. From diagnosis to treatment, the MicroFET 3 is the only device on the market that is a handheld dynamometer and inclinometer allowing practitioners to perform two measurement tests with one machine. With fast and digital results, the MicroFET 3 is one of the most comprehensive and innovative strength testing devices on the market today.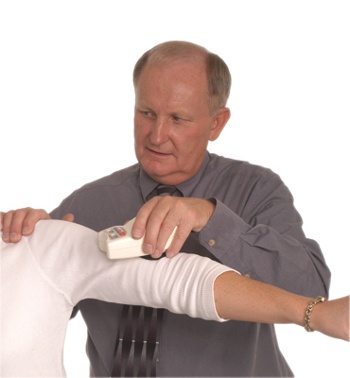 Most Efficient Tool for Muscle Testing
Another valuable handheld dynamometer that helps maximize treatment time efficiency is the JTech Commander Echo Manual Muscle Testing Dynamometer which features an innovative pop-in "quick connect" system which allows physicians to quickly and easily change testing pads. Not only that, but with the ability to easily customize testing protocols, the JTech Commander Echo further saves valuable time so practitioners can focus on what's important: diagnosing injuries and assessing strength deficits and progress. What's more, the JTech Commander Echo handheld dynamometer can be used with the Echo Console which can be used for a complete evaluation with corresponding tools for: inclinometery, muscle testing, grip strength testing, algometry, and other medical evaluation activities.
Related Article : JTECH Echo Console Buying Guide
Best Hydraulic Grip Dynamometer
The best hydraulic grip dynamometer on the market today is the Jamar 200 lb. Hydraulic Hand dynamometer. Not only is it built for durability, the Baseline hydraulic dynamometer gives practitioners exact grip strength results which is extremely important for establishing a patient's baseline of strength and determining the extent of loss of strength. With adjustable 5-position handle and a maximum strength indicator that remains after each reading until reset, the Jamar handheld dynamometer is easy to use
Another great hydraulic dynamometer is the Baseline Push Pull Dynamometer which is designed to be lighter-weight than most models available on the market without sacrificing the quality and accuracy of the results. Slightly different than establishing hand grip strength, analyzing push-pull strength can help identify a patient's ability to perform specific tasks like pushing, pulling and/or lifting which occur in daily tasks like vacuuming or job tasks like pushing a dolly.
This type of dynamometer is an important tool for use in screening job applicants, analyzing deficits after an injury and tracking progress through rehabilitation.
Popular Full Hand Evaluation Kits
Sometimes it's necessary to perform a complete hand evaluation which means using different tools to measure hand, grip and pinch strength. The Digital Jamar 3-Piece hand evaluation set was designed to give practitioners all the necessary tools for a basic hand and finger evaluation in one convenient, portable package. What sets the Jamar Hand Evaluation Kit apart is it can be used for in both clinical environments as part of initial and progressive evaluations and in corporate environments to screen potential job applicants and employees on their ability to perform specific job tasks. Not only is the Jamar Hand Kit completely portable, but it provides practitioners with accurate and reproducible results. The Jamar 3-Piece Hand evaluation kit includes a state-of-the-art handheld dynamometer, pinch gauge and goniometer to provide a full evaluation of hand strength. With a convenient carrying case, it's possible to store and travel with the Jamar Hand Evaluation kit as needed.
Best Youth-Size Hand Dynamometer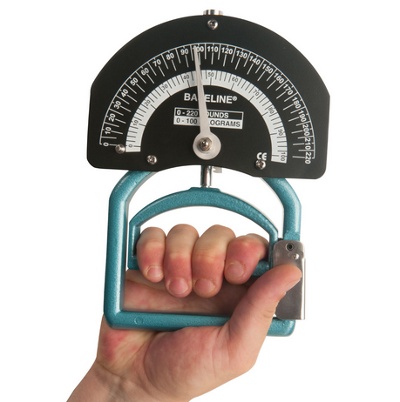 Because youths have such smaller hands, it's important to have a youth-sized handheld dynamometer that can be used to treat various hand sizes in the pediatric community. The Baseline Child Smedley Spring Hand dynamometer is one of the best dynamometers on the market today to measure children's hand strength. Designed with a handle to accommodate any child's hand size, the Baseline Child Handheld dynamometer is calibrated in both pounds and kilograms.
Cost-Effective: Baseline offers a great, cost-effective handheld dynamometer. The Baseline 200-lb capacity HD hydraulic hand dynamometer is recognized as an industry leader for being reliable and accurate. In addition to a 5-year warranty, the Baseline hydraulic handheld dynamometer features a durable construction for years of worry-free use in a variety of clinical and rehabilitation settings.
With so many handheld dynamometers available on the market today, it's possible to find the perfect measurement device to suit your clinic's unique patient population and needs.