28th Oct 2018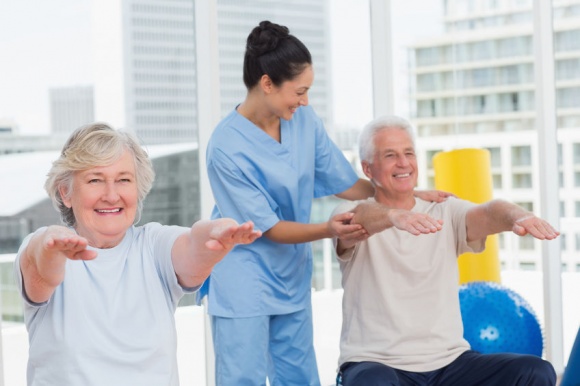 Outfitting a practice or treatment room with the proper equipment and accessories can be daunting for the first time. Not only is the list of necessary devices long, but the cost and decisions about where to store all the devices can be confusing and stress-inducing.
With that in mind, we've created a list of essential modalities and equipment to help you get started making decisions when it comes to picking what it is you need for your clinic or practice.
The Essential Modalities and Devices for Rehabilitation
Treatment table: Almost all treatment rooms will need to include a treatment table. While some practices may choose simple, unsegmented table, there are many options available with motorized lifts or even traction tables which can be used as an add-on modality. The Chattanooga Traction table is a good choice because it comes with an easy handswitch for simple adjustments. It also features convenient segments which can be raised and lowered as needed depending on your treatment needs.
Heat therapy: Heat therapy remains one of the most popular modalities in rehabilitation today. It's effective, but it can also be delivered simply with hot packs. Hot packs come in different sized shapes in order to be used for diverse areas of the body. One thing to consider is that in order to offer hot packs, your practice must have the space for a hydrocollator which will heat and store your hot packs. Luckily, hydrocollators come in different sizes and can be used in both small and large practices.
Cold therapy: Cold therapy is another popular and easy to offer modality. As with hot packs, cold packs come in different sizes. Something to consider with cold therapy is to make sure you have the ability to chill the cold packs to the correct, therapeutic temperature. With the case of cold packs, a freezer or refrigerator would be necessary.
Another great cold therapy device to consider adding to your practice would be cold-compression therapy. Not only does cold-compression therapy have a device to regulate both cooling and compression, but the ergonomically-designed wraps deliver both cold and compression to maximize therapeutic benefits. Cold provides an analgesic effect, while compression can address edema and swelling.
Ultrasound therapy: Ultrasound devices are another staple in a rehabilitation office. This is a great device that can be chosen and customized to your practice's needs.Some units come standard with more than one size soundhead applicator. This can be important when you want to treat diverse areas of the body and different conditions. For example, a smaller applicator is great to treat the cervical spine or conditions like tennis elbow.Another thing to consider with ultrasound therapy is whether it offers both 1 MHz or 3 MHz treatment capabilities. Most devices offer this, but it's an important function to have because it means your practice can treat both shallow areas and deeper tissues.Lastly, the ability to customize treatment with either continuous or pulsed modes is another feature that comes standard with most ultrasound units. This is an important feature, because pulsed has been found to be more beneficial for pain relief, while continuous mode has been found to treat areas like the knees more effectively.
Electrical Stimulation: This treatment is another typical modality to have in your rehabilitation practice. Electrical stimulation uses electrical impulses to stop pain signals from reaching the brain. Extremely versatile in its treatment applications and with being non-invasive with no-side effects, e-stim is a great choice when outfitting your treatment room.
Something to consider is whether to purchase a simple E-stim unit, like a TENS (transcutaneous electrical nerve stimulation) or one that offers multiple waveforms (interferential, pre-modulated, high volt and Russian) which can increase your treatment applications.
Bonus: A space and time saving solution to offer both ultrasound therapy and electrical stimulation is by purchasing a combination device. For example, the Chattanooga Transport Ultrasound Therapy/Electrical Stimulation Combination device offers all of the benefits we've outlined as necessary including:
2 channels of electrotherapy output

Four waveforms for electrotherapy

Pulsed and continuous treatment operations for ultrasound

Watertight ultrasound applicator with integrated warming feature for ultrasound

User-specific therapy protocols which can be customized based on your patient's needs
Contact us today!
We can help your practice find the perfect devices and all necessary supplies and products to help your practitioners treat their patients successfully. Contact us today and we'll answer any questions you may have about the benefits of using each device and what accessories you'll need! Call us today at 1-801-770-3328 for more information.