21st Aug 2018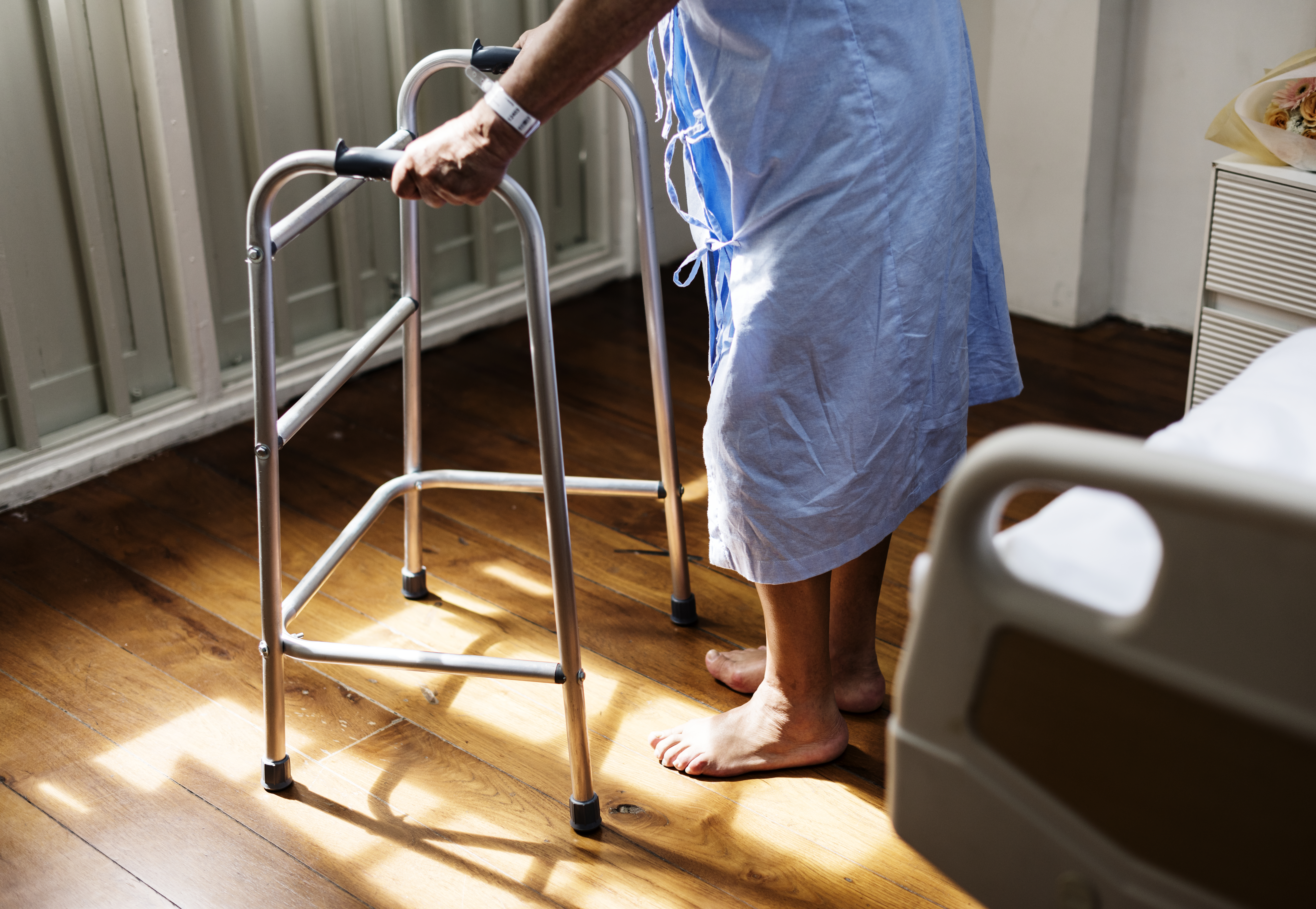 For our senior patients who still live in their own homes; safety, mobility and maintaining their independence are of the utmost importance. Unfortunately, for most patients, declining agility and unsteadiness begin to increase as muscle mass and strength also declines. Tasks that were previously taken for granted, like getting out of bed, dressing or opening a can become increasingly difficult with some activities increasing the risk of falls, which can be a debilitating injury.
One of the best ways for seniors to maintain their daily activities and routines is through the use of assistive devices. Not only will daily living aids help seniors maintain their personal freedom, but it will help them continue to live independently. Assistive devices are a catch-all term that refers to any piece o item, device or equipment used to aid the elderly, handicapped or disabled individual to accomplish everyday tasks like putting on their shoes. These aids help improve independence and directly impact and increase our patient's quality of life. In addition to individual use, many nursing homes, group homes, medical facilities and residential homes use adaptive devices to help their individuals experience more freedom and success with daily tasks like dressing, grooming, bathing, cooking, toileting and eating activities. Assistive devices may also be called adaptive equipment, handicap equipment, daily living aids or disability aids.
The Best Assistive Devices for Seniors
The purpose of most assistive devices is to restore confidence while increasing mobility and peace of mind while the user attempts certain specific tasks. There are several types of daily living aids and we've compiled a list of what we consider must-have assistive devices for seniors:
1. Security Poles
Security poles were designed specifically for patients with balance issues and lack leg strength. With four different grip strengths at increasing heights, the security pole is a great choice for patients that lack the strength and ability to get up from sitting safely. The bar itself can pivot and can be locked into place when adjustments are needed. What's great about the security pole is it can be used next to furniture like couches or a bed or in the bathroom.
For improved safety, these security poles are tension mounted, fit ceiling heights from 7' to 9' and will support up to 300lbs. With rubber pads on the ends that protect the floor and ceiling, no holes need to be drilled or permanent mounting hardware is needed to install and use the security pole.
2. Shower Chair
This device is fantastic for seniors with core weakness that allows them to take a shower safely. The Premium Shower Chair from Drive Medical features a sturdy design with a back and arms to improve the patient's upright posture and improve safety while in use.
3. Foldable-Back Support seat
For patients that have trouble sitting upright in a chair may want to consider the use of a support seat. This assistive seating device can be used to help support patients in a sitting position with an armchair, love seat or sofa. This is an amazing device for people living with arthritis, coccyx pain or other joint ailments who struggle to sit upright from pain and/or muscle weakness. The padded seat makes it comfortable or patient's use and folds flat for easy mobility and storage.
4. Adjustable Height Home Bed Assist Handle
For patients that have difficulty getting out of bed on their own may want to consider the use of an assistive bed handle. The Adjustable Height Home Bed Assist Handle from Drive Medical provides adequate assistance for these patients to safely get in and out of their bed. With an adjustable handle, the handle attaches quickly and easily to either side of the bed. Set up is easy as the handle simply slides underneath the mattress. As a safety feature, Drive Medical designed the Height Home Bed Assist Handle with "no-slip foam" on the base handle which helps hold the bar safely in place. The removable handle is part of an all steel, chrome-plated construction that is strong, solid and easy to clean. Assembly of the handle is easy, with three pieces that can be quickly assembled together without the need for tools. Also, Drive Medical designed the handle with the option to be adjusted flat for easier storage.
5. Walker
For patients that lack the ability to walk safely on their own may want to consider the use of a walker. The Drive Medical two-button walker comes fully assembled out of the box. Not only that, but the walker is simple to use with accessible push-button mechanisms which may be operated by fingers, palms or side of hand. Patients will be pleasantly surprised with the use of the two-button walker because each side can be operated independently to allow easy movement through narrow spaces and greater stability while standing. Additionally, the walker was designed with a rear glide cap allows for the walker to slide easily and smoothly over most surfaces. What's more, Drive Medical constructed the two-button walker with durable aluminum to ensure safety, but still keep it lightweight.
Assistive devices can greatly improve the independence and livelihood of your senior patients. Daily living aids help senior patients perform their daily activities, which will not only will them to restore their freedom and mobility, will also increase peace of mind that they are comfortable and safe in their own home.
Contact us today!
We can help your practice find the perfect assisted living devices and equipment to work with your senior patient populations. Contact us today and we'll answer any questions you may have about the use of each daily living aids! Call us today at 1-801-770-3328 for more information.