Posted on October 22, 2009
The resistance bands we sell on ProHealthcareProducts.com are color coordinated using a patented color code sequence from Thera-Band. The following products use the Thera-Band Colors Sequence: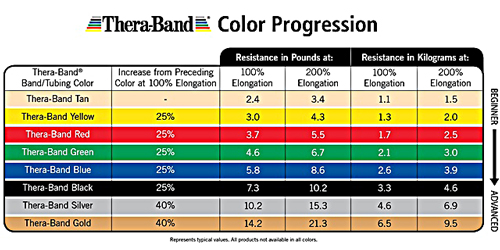 We frequently receive requests from customers for information about the details of the Thera-Band colors sequence. Thera-Band has provided a very helpful guide to using their color chart. The following is from the Thera-Band user manual for resistance bands and resistance tubing:
Elastic resistance is a unique type of resistance training compared to other traditional forms, such as isotonic or isokinetic resistances. The resistance provided by elastic bands or tubing is based on the amount that the band or tubing is stretched. This resistance can be measured in pounds of force depending on the percentage the band or tubing is stretched from its resting length; this is known as "force-elongation". Regardless of how long the band or tubing is before it's stretched, the force produced at its stretched length depends on the percent elongation. For example, an initial 2 foot (60 cm) length of green band that is stretched to 4 feet (120 cm) (double its resting length), is at 100% elongation.
Therefore, the resistance of the band is 5 pounds (2.3 kg) at that elongation. If the band is then further stretched to 6 feet (180 cm) (200% longation), the resistance would be about 8 pounds). There is approximately a 20-30% increase in resistance between Thera-Band colors at 100% elongation.
Thera Band Resistance Training Bands are color coded. Each color represents a different resistance level.
The following charts show the resistance strengths for the Thera-Band colors sequence. The first chart shows the resistances in pounds, and the second gives the same information in units of kilograms.