30th Apr 2021
TheraTouch from Richmar Medical
The Richmar TheraTouch line features the latest advancements in therapeutic devices such as an advanced four-channel combination therapy system used in physical therapy, occupational therapy and sports medicine. Their goal is to provide both electrotherapy and ultrasound treatment options in simple-to-use, ergonomic devices as well as singular electrical stimulation, lasers and diathermy machines.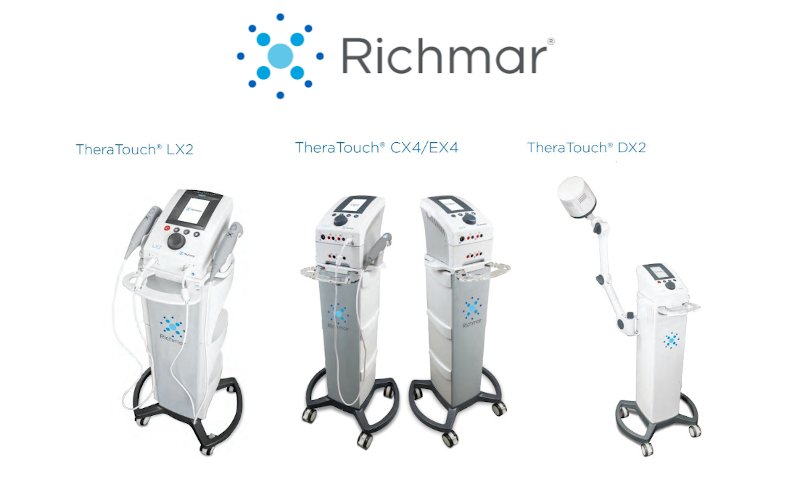 Reasons to Buy TheraTouch Products
The TheraTouch line of therapeutic products include top-of-the-line devices that deliver optimal treatment outcomes. This comprehensive line includes:
TheraTouch EX4 E-stim Machine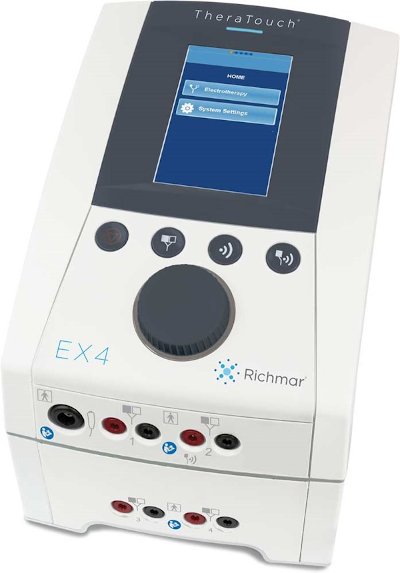 If you're looking for an advanced electrotherapy system for your clinic, look no further than the TheraTouch EX4. Not only does Richmar's Theratouch EX4 offer a diverse range of therapeutic treatment options, but it also features an ergonomic design and is simple to use.
One of the most exciting features of the EX4 is that it is equipped with a bilingual menu-driven touchscreen interface. This guides your clinicians step-by-step through treatment protocols to make sure they set the correct protocols to address each patient's unique needs – It even includes electrode placement to help improve the efficacy of treatment.
Features 4 channels of stimulation with the following waveforms:
Interferential
Premodulated
Biphasic (Symmetrical, Asymmetrical, RAAS)
NMS
Russian
High Volt
Microcurrent
Each of these waveforms can be used to address the specific and diverse needs of your patients. In addition to these, the EX4 offers an 8th waveform not readily available with other e-stim devices but will set your practice apart from other therapeutic offices.
Rapid Agonist Antagonist Sequencing (RAAS) is a unique stimulation waveform that replicates the typical firing pattern of normal muscle contractions. Practitioners can use this non-invasive waveform to effectively re-educate weak and inhibited muscles following surgery, injury, or trauma.
Uses of the Richmar EX 4 E-stim Device
With the delivery of electrical impulses through electrodes, electrical stimulation can be used for myriad therapeutic goals; from helping prevent muscular atrophy and building up strength to reducing pain and muscular spasms.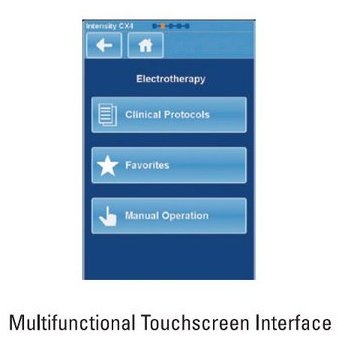 Because of its diverse benefits, the EX 4 e-stim device can be used to treat:
Arthritis (Rheumatoid/Osteoarthritis)
Stroke recovery
Fibromyalgia
Tendonitis
Bursitis
And more...
The diverse applications and modern features of the Richmar EX4 E-Stim System make it one of the best clinical electrotherapy units on the market. You won't find a better price for one machine that inludes the same treatment capacity.
Superior Functionality Protected by Competitive Warranty
Eight preset clinical protocols for stimulation, with ability to customize parameters and save up to 99 user-defined protocols for future use
Bilingual interface where you choose can between English and Spanish
Three–year warranty
TheraTouch Combination Therapy Unit | CX4 Ultrasound/E-stim
The TheraTouch CX4 is an advanced combination therapy machine. Designed with both four-channel electrotherapy as well as ultrasound therapy, this device is as user-friendly as it is effective. Not only that, but practitioners can use both modalities simultaneously to improve therapeutic outcomes.
Combines Ultrasound Therapy and Electrotherapy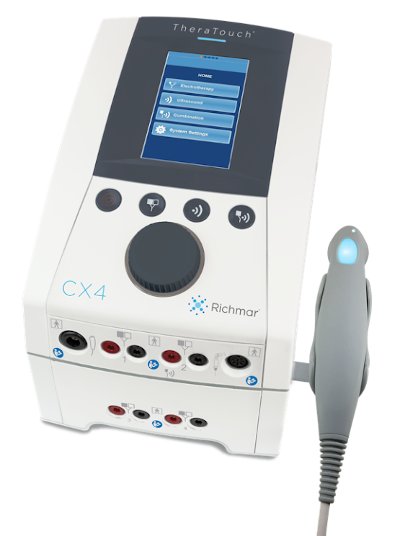 The combination of ultrasound and electrical stimulation is often used to activate the natural opioid pain-relieving system in the body. This combination is particularly effective for treating:
Fibromyalgia
Arthritis
Sciatica
Temporomandibular disorders (TMD)
Diabetes ulcers
And more...
The Benefits of the TheraTouch CX4 Ultrasound/E-Stim Combo Unit
Menu-driven color touch screen interface
Preset treatment protocols
Ultrasound and electrical stimulation can be used simultaneously
TheraTouch LX2 Laser Therapy
Low-level laser therapy (LLLT) is a great choice for clinics and practitioners that want a device that can provide tissue healing as well as inflammation and pain reduction. With the TheraTouch LX2 deep tissue laser, setting up treatment is simple with selectable clinical protocols and easy-to-adjust treatment parameters in order to customize for each patient's needs.
The Uses of LX2 Laser Therapy
When low level laser light waves penetrate deeply into the skin, it can optimize the immune responses of our blood, which has both anti-inflammatory and immunosuppressive benefits that can be used for a variety of patient's needs.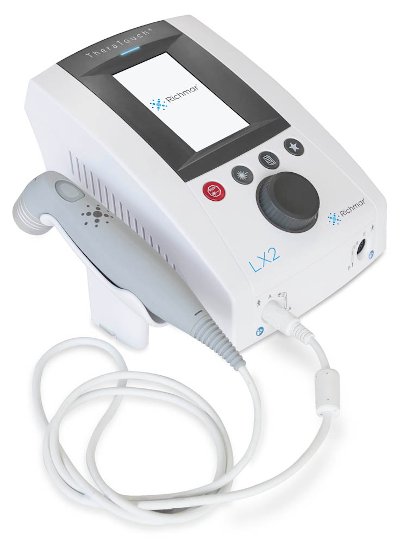 These patients may be treated for:
Fracture healing
Arthritis
Herniated discs
Carpal Tunnel Syndrome
Pelvic dysfunction
And more…
Features of LX2 LLLT Device
Auto-populates clinically-proven treatment protocols
Touch screen makes for fast and simple treatment adjustments
Provides real time calculation to update dosage when adjusted
TheraTouch Diathermy DX2
Heat therapy can be used to provide a number of therapeutic benefits: from pain reduction and improved range of motion to reduction in muscle spasms and inflammation. A Shortwave diathermy machine is an effective device to deliver heat therapy to a wider treatment area. The TheraTouch DX2 is the next-level when it comes to safety, ease, and efficiency compared to other shortwave diathermy devices on the market today.
Best Uses of the TheraTouch DX2
Diathermy transmits high-frequency waves into the treatment area and the affected tissues. Using condenser plates to send energy waves, typical short wave diathermy machines operate at a frequency of 27.33 MHz and have wave-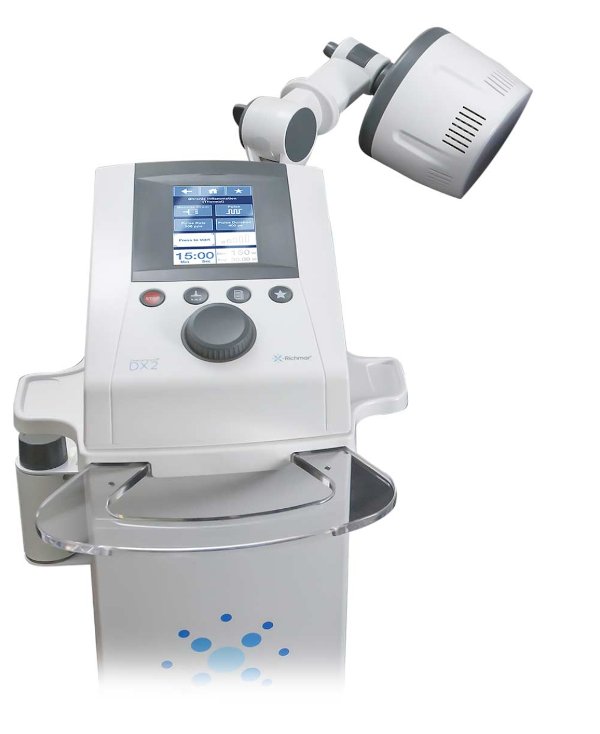 lengths of 11 meters, which can deeply heat the tissue, perfect when treating conditions like:
Sprains and strains
Tenosynovitis
Tendonitis
Bone injuries
Bursitis
And more...
Features of the DX2 Diathermy Device
Includes two additional dosimetry settings within Dose III provide more options for therapeutic heating within patient comfort tolerances
Features auto-tuning technology which continually measures and adjusts to changes in the patient's body heat
Includes an anatomical treatment guide for easy monode placement
Best Features of the Richmar TheraTouch Series
E-stim
Designed to be both effective and simple to use, the TheraTouch EX4 includes:
Preset library
6 waveforms
Electrode placement library
Comes complete with

Axelgaard® Electrodes (2"x 2" and 2" x 3.5" electrodes, 3" x 5" dispersive electrodes), rubber electrodes (2.5" x 3.5" and 2.75" x 4.3" electrodes), two straps for rubber electrodes, lead wires, power cord, patient kill switch, instruction manual, quick start guide, and a CD with electronic manual

Optional cart
Ultrasound / Estim Combo
One of the most state-of-the-art devices in rehabilitation, the TheraTouch CX4 is an ultrasound therapy and electrical stimulation combination device that includes:
Clinical protocols
4-channel stimulation
Easy to read LCD display
"Favorites" feature allows storage of up to 99 custom programs
Optional cart
Optional soundhead applicators
Laser
Also referred to as low-level laser therapy or cold-laser, the TheraTouch LX2 is the next-level device that includes:
Applicator to deliver treatment of up to 35 joules/cm² in a single session
Pre-programmed clinical protocols
Diathermy Machine
The TheraTouch DX2 is the most advanced diathermy device on the market today offering both safety and efficacy. The DX2 comes standard with:
Anatomical treatment Guide for easy monode placement
"Favorites" feature for 99 protocols
Qualitative thermal dosimetry with six settings included
Easy to use, touch-screen
Who Is Richmar? What problem(s) did they solve with TheraTouch?
Richmar offers over 65 years of innovation and quality. Originally founded under the name Medco in 1951, Richmar has partnered with clinicians to innovate therapeutic devices to be used in rehabilitation and created the first combination stim and ultrasound machine, as well as being the first to incorporate a touch screen into an electrotherapy device.
Now part of Compass Health Brands, Richmar continues to elevate US-based manufacturing for top-of-the-line rehabilitation devices, customer service, and technical support for medical practitioners and centers.
Warranty Information