23rd Jan 2017
Sensory perception evaluation is a necessary component in treating many patient issues. From post-stroke patients to patients with carpal tunnel syndrome, sensory testing provides essential information about any sensory loss and helps keep track of progress and/or deterioration. Sensory testing equipment includes:
Baseline Tactile Semmes-Weinstein Sensory Monofilament Kits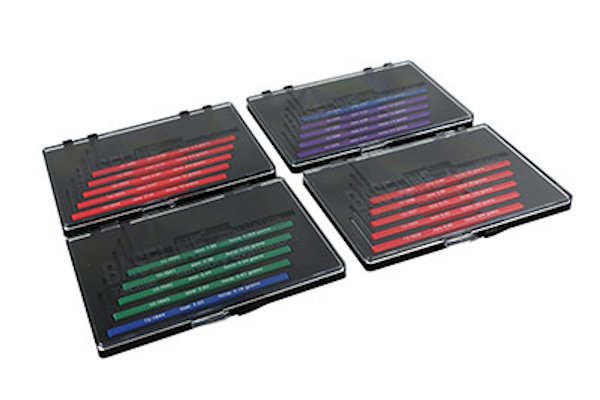 Complete set of 20: The Baseline Sensory Monofilament set can be used to perform tests similar to the Semmes-Weinstein sensory testing. The monofilaments included in the Baseline Sensory Set test the cutaneous sensory perception of patients.
Each monofilament represents a unique amount of force and the set includes the following filament sizes: 1.65, 2.36, 2.44, 2.83, 3.22, 3.61, 3.84, 4.08, 4.17, 4.31, 4.56, 4.74, 4.93, 5.07, 5.18, 5.46, 5.88, 6.10, 6.45, and 6.65, with force increasing with each ascending size. When testing, practitioners start with the smallest size and move up accordingly.
When to Use the Baseline Tactile Semmes-Weinstein Sensory Monofilament Test
The Baseline Tactile Semmes-Weinstein Sensory Monofilament Test is the type of test recommended to use when assessing post-stroke central pain (CPSP). According to the International Association for the Study of Pain, sensory monofilament test kits can positively identify sensory loss and sensory abnormalities which are correlated to CPSP.
When using the Baseline Sensory Test for this purpose, the monofilaments are applied to the dorsum of the hands or the dorsum of the feet. Two alternating ascending and descending series of monofilaments should be used to determine 4 thresholds for each testing site.
Baseline Disposable Sensory Monofilaments ADA LOPS
The Baseline Monofilaments ADA LOPS have several benefits:
Disposable

10-gram size (perfect for annual and initial testing)

Individually packaged
When to Use Baseline Disposable Monofilaments-LOPS
Loss of Protective Sensation (LOPS) is the first risk factor for skin breakdown over weight bearing surfaces and developing diabetic neuropathy ulcers in diabetic patients. Regular testing of both feet is necessary to help identify:
Numbness

Tingling

Burning

"crawling" sensations
A study published in Diabetic Foot and Ankle compared monofilament testing to other methods in identifying sensory neuropathy in diabetic patients. The testing was administered in three specific areas: the big toe, foot and ankle. The study found that monofilament testing was successful in identifying sensory neuropathy in these areas and is superior in its ease of use. Additionally, an abstract published in Diabetes Care found that single-use, disposable 10 gram monofilaments provide more accurate results when performing sensory testing.
The Baseline Disposable LOPS 10 gram monofilaments are the perfect tool to perform annual foot testing of diabetic patients to identify any sensation loss or changes. Individually packaged, they can be used in the office or are easily portable for home visits.
Baseline Tactile Semmes-Weinstein Sensory Monofilament Foot Set of 6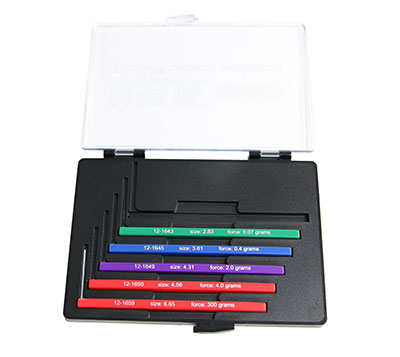 Once sensory loss has been detected, it is necessary to perform more in depth testing. The Baseline Sensory Monofilament Foot Set can be used to measure cutaneous sensory perception or the sensitivity to outside force being applied to the body. The Baseline Monofilament Foot Set comes with a set of 6 monofilaments in varying sizes: 2.83, 3.61, 4.31, 4.56, 5.07, 6.65 which can give practitioners insight into how much sensory loss has been sustained and create a prevention program around testing results.
Baseline Tactile Semmes-Weinstein Sensory Monofilament Hand Set of 5
As we've discussed monofilament testing can be done on the hands to determine sensory loss in stroke patients, but it's also beneficial in diagnosing, and identifying any numbness and sensory loss in patients with carpal tunnel syndrome. The American Society for Surgery of the Hand published findings that monofilament sensory testing is beneficial in initially diagnosing carpal tunnel syndrome and determining areas of sensory loss with an 83% success rate.
The Baseline Sensory Monofilament Hand Set has everything a practitioner needs to do complete hand testing. The Baseline Monofilament Hand Set comes with 5 various sized monofilaments (2.83, 3.61, 4.31, 4.56, 6.65) with varying degrees of force to help not only diagnose sensory loss but determine to what degree perception has deteriorated.
How to Perform Monofilament Testing to the Hands & Feet
Patient should respond "Yes" each time he or she feels the pressure of the monofilament on the foot or hand
Choose the first monofilament and touch it against the patient's arm so they know what it will feel like during the exam.

The patient should close his or her eyes and keep their feet straight, without moving during the test.

Keeping the monofilament perpendicular, press it against the foot or hand, increasing the pressure until the monofilament bends into a C shape and hold for 1 second and say "Time One"

Repeat and say "Time Two"

Have the patient identify with a "Yes" when or if they sensed when they were touched.

Test on both feet using the monofilament on the first, third, and fifth metatarsal heads and plantar surface of the distal hallux and third toe. Avoiding any callused areas. Testing on both hands, use the monofilament on the palmar surface of each digit until it bends.

Record response after each monofilament application with a "+" for Yes and "–" for No.
Baseline Babinski Hammer for Sensory Evaluation
Another aspect of sensory testing is reflex testing. A reflex hammer is the tool used by practitioners to test deep tendon reflexes. Reflex testing may seem simplistic, but it's actually an important part of neurological examinations and can help detect abnormalities in the central or peripheral nervous system.
The Baseline Babinski hammer is a great tool to use for reflex testing. The Baseline Sensory Hammer has adjustable head which can be adjusted in two directions: perpendicular or parallel to the handle. The Baseline Babinski Hammer was designed with a pointed bottom that can be used as a Gross aesthesiometer. The Baseline Hammer is also available latex free which is useful when testing patients with allergies.
Sensory testing requires the right tools to get the most accurate results. From diagnosing, to tracking progress, Baseline has created an extensive and diverse line of sensory evaluation tools that can be used for the unique needs of each individual patient.
For more information about Sensory Testing, Tactile Sensitivity Kits, and Monofilaments please checkout the ProHealthcareProducts.com Blog.